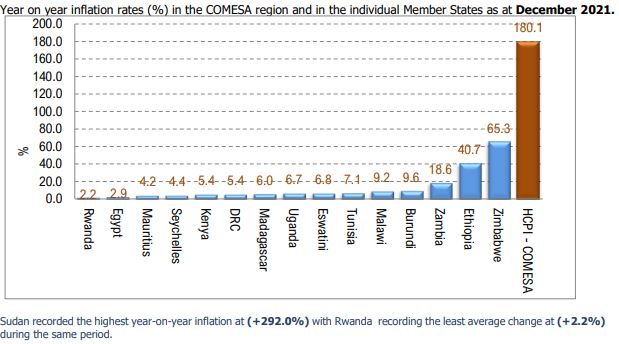 The annual inflation rate in the COMESA region was recorded at 180.1 % as at December 2021. According to the latest Harmonised Consumer Price Index (HCPI) monthly news release produced by the Statistics Unit at COMESA Secretariat, the December inflation rate was up from 156.8% registered in November 2021.
A year earlier, the rate was at 94.1%. The month-on-month inflation rate in the COMESA region as measured by HCPI-COMESA stood at 14.5% for the month of December 2021, up from 7.9% registered in November 2021. It was 5.1% in December 2020.
The HCPI-COMESA comprises of twelve divisions of expenditure which registered the different average price changes during the month of December 2021 compared with December 2020.
Food and Non-alcoholic Beverages recorded +117.7%; Alcoholic Beverages and Tobacco +93.8%; Clothing and Footwear +118.1%; Housing, Water, Electricity, Gas and Other Fuels were at +110.2%; Furnishings, Household Equipment and Routine Household Maintenance +210.3%; Health +101.6%; Transport +164.6%; Communication +112.9% Recreation and Culture +1072.8%; Education +207.5%; Restaurants and Hotels +533.5%; and Miscellaneous Goods and Services +161.3%.
Participating Member States that contribute to HCPI-COMESA registered the following rates of total inflation in December 2021 compared to December 2020. Burundi (+9.6%); Democratic Republic of Congo (+5.4%); Djibouti (+2.4%); Egypt (+2.9%); Eswatini (+6.8%); Ethiopia(+40.7%); Kenya (+5.4%); Madagascar (+6.0%); Malawi (+9.2%); Mauritius (+4.2%); Rwanda (+2.2%); Seychelles (+4.4%); Sudan (+292.0%); Tunisia (+7.1%); Uganda (+6.7%); Zambia (+18.6%); and Zimbabwe (+65.3%).