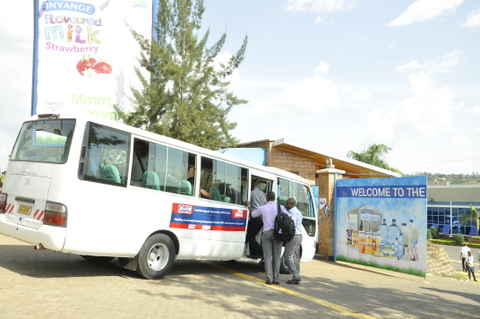 Rwanda has prioritized three value chains namely horticulture, livestock and livestock products covering diary and honey and cereals under the Sanitary and Phyto Sanitary (SPS) Investments for Market Access (P-IMA) project.
This was revealed during the meeting to validate Rwanda's outcome report on Prioritizing of SPS Investments for market access. The meeting held on 18 March 2021 also discussed the mainstreaming of SPS priorities into national policy and investment frameworks to enhance trade capacity for the country.
The Rwanda Country Report was reviewed at the workshop. It was compiled after a series of sensitization, capacity building and continuous improvement sessions held in the country since September 2019 when the P-IMA Project was launched.
The report identified 14 SPS capacity building investment options out of an initially proposed 18 that were subjected to the P-IMA priority setting framework.
According to the findings, about US$ 9 million is required to implement all the 14 capacity building options that could potentially generate about $255 million worth of exports annually. However, since resources are limited, priorities were set based on a structured process of identifying SPS capacity building options that were relevant for market access, prior agreed objectives and agreed weights assigned to the decision criteria.
Speaking during the opening ceremony of the virtual meeting, Permanent Secretary in the Ministry of Agriculture and Animal Resources (MINAGRI) Mr Jean Claude Musabyimana said Rwanda has had very limited export rejections by the United States and European Union on SPS issues. Even so, most agri-food exports from the country are susceptible to SPS compliance requirements.
Since 2012, the PS noted, there has been observable efforts including sector specific strategies and interventions in addressing SPS challenges. Both the Rwanda's Strategic Plan for Agriculture Transformation (2018-2024) and the National Agricultural Policy (2018) recognizes the need to address SPS issues to access high-end consumer markets.
In effect, one of the strategic orientation of the plan is a focus on upgrading the provision of SPS/quality standards for the horticulture, vegetable, poultry, pork and fisheries sectors.
"The plan intends to focus on two broad value chains namely animal resources and horticulture and therefore attention must be paid to SPS issues related to these value chains to facilitate agri-food trade particularly to high-end markets," Mr Musabyimana said in a speech read by Dr Charles Murekezi, Director General in charge of Agriculture Development in the MINAGRI.
In terms of regional trade, the recent WTO Trade Policy Review (2019) indicated that Rwanda's intra-Africa trade has expanded drastically from 35.2% in 2011 to 49.7% in 2017 with the main markets in Africa comprising of DRC, Kenya and Uganda.
COMESA Secretary General Chileshe Mpundu Kapwepwe commended Rwanda for the commitment to address SPS issues and championing the P-IMA which will lead to increased trade capacity for the country.
"COMESA views the P-IMA framework as a unique planning and sector-wide engagement and resource mobilization tool," she said. "We encourage our Member States to use P-IMA to take stock of SPS capacity building needs, prioritize and cost investment options with the best returns and integrate them into national agriculture sector investment plans."
Her speech was presented by the Assistant Secretary General for Programmes Dr Kipyego Cheluget.
The P-IMA project is funded by the Standards and Trade Development Facility (STDF) and the Enhanced Integrated Facility (EIF). The Rwanda programme also benefited from support from the EU Trade Facilitation Programme.
COMESA rolled out the regional P-IMA Project through a high-level inception meeting conducted in 2019 in Rwanda.