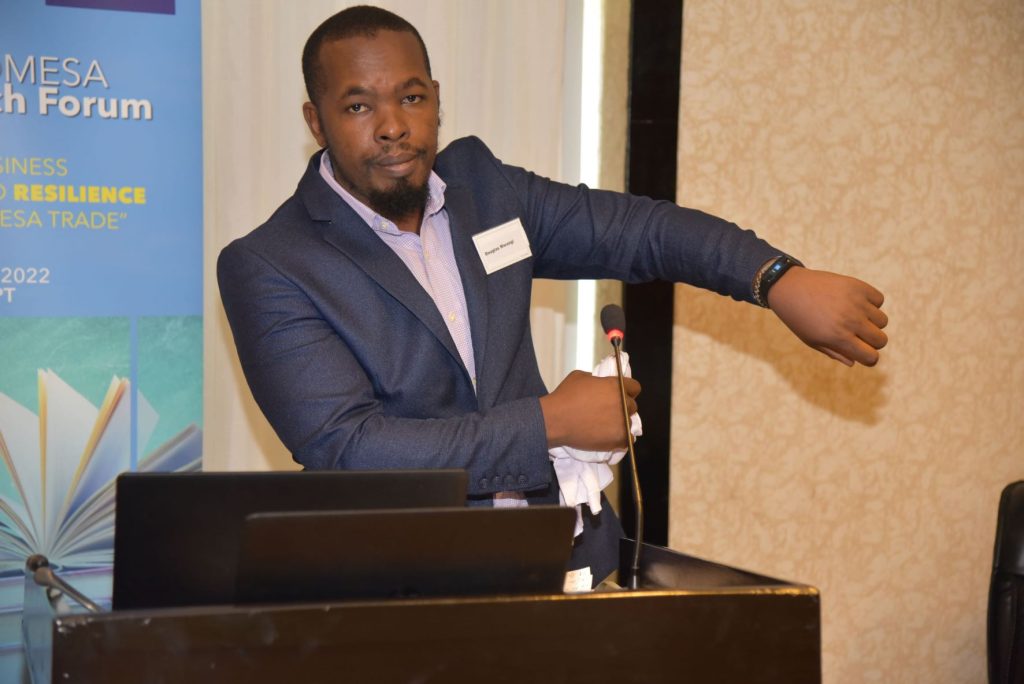 Cairo, Wednesday, September 14, 2022: Six innovations were today showcased at the ongoing COMESA Research Forum in Cairo, Egypt.  The innovations will be considered for the COMESA Innovation Awards, which are aimed at recognizing and celebrating individuals and institutions that use science, technology and innovation to advance the regional integration agenda.
Among them were cooking gas derived from plastic waste, a vacuum packaging machine for animal feeds and a health monitoring bracelet. Other innovations presented were on the optimization of aquaculture production performance as a food production system, provision of healthcare remotely by means of telecommunications technology (Telehealth) and a solution to immuno-compromised health conditions.
Presenting his Mega Gas Alternative Energy innovation, Mr. Peter Mwangi Njeri of Kenya said his innovation was targeted at low-income families through clean and affordable cooking energy converted from plastic waste into fuel.
"Our product is 50% Cheaper compared to Liquefied Petroleum Gas in the market, cleaner compared to fossils fuels such as charcoal and firewood. Our gas also has a higher calorific value compared to LPG gas in the market," he said.
He added that by converting plastic waste into clean cooking gas, the innovation mitigates environmental degradation by preventing plastic waste from getting into the natural environment. Currently his company is recycling about 70 tons of plastic waste every month and plans to scale up to 250 tons a month.
"This means that, unlike other solutions that repurpose plastics and only extend their lifecycle, we reuse plastics in a way that has the potential of eliminating them entirely," Mr Njeri said.
Mr. Douglas Mwangi of Kenya, the developer of the health bracelet told the forum that his device helps to connect the user to medical specialists and can call the nearest ambulances at only $1 a month. Currently, 400 devices are in use in Kenya and connected to 54 ambulance providers with a scale-up target of linkage to 650 hospitals.
Presenting her Vacuum Silage Packaging Machine, Ms. Patience Mueni a 4th year environmental scientist student at Kenyatta University in Kenya, said the uniqueness of her concept is in the localization of mechanization processes to package and preserve silage by small holder farmers. The machine is intended to eliminate the traditional poor packaging methods while ensuring quality packaging for longer fodder preservation periods.
The COMESA Research Forum provides an avenue for the innovators to network and commercialize their innovations. After the review, the successful innovators will be recognized and awarded during the next Summit of COMESA Heads of State and Government to support them in promoting their innovations/products.
COMESA received eight innovation concepts following a call for innovations early this year. These were reviewed in collaboration with the African Union Development Agency (AUDA-NEPAD). Out of these, three innovation concepts met the prerequisite criteria and were selected for showcasing during the 9th Annual research forum. The other three innovations: on aquaculture, and health were received from the AUDA-NEPAD.