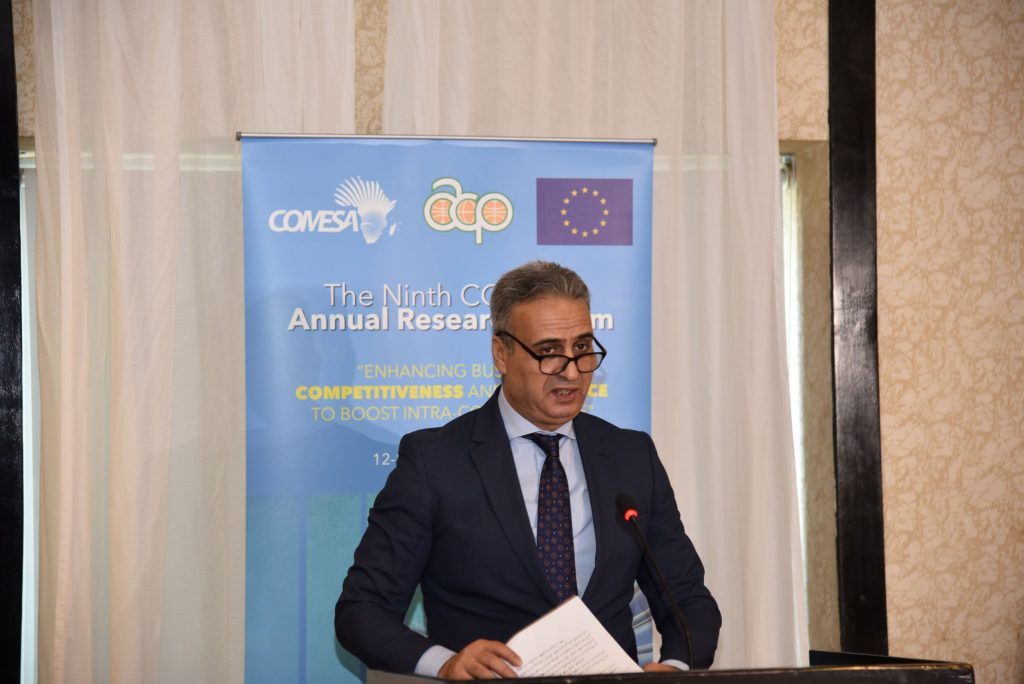 Cairo, Monday, September 12, 2022:  The 9th edition of the COMESA Annual Research Forum began today in Cairo, Egypt with close to 100 participants from 19 Member States attending. The four-days forum will address emerging topical issues in economics, trade and regional integration at continental and global level. Its is one of the avenues through which COMESA Secretariat harnesses knowledge and policy insights from eminent scholars, researchers, academics, regional and international experts who review and discuss the research papers presented.
This year forum is anchored on the theme "Enhancing Business Competitiveness and Resilience to Boost Intra-COMESA Trade".
Egyptian Assistant Minister for Economic Affairs Mr Ibrahim Seginy opened the forum. He said there can be no better way of influencing regional policies better than use of research and engagement of various stakeholders – the academia, private sector and policy makers in governments.
"This forum could not have come at a better time, when world economy is facing some of the biggest socio-economic challenges in modern times," he added, citing the effects of Covid- 19 pandemic and the Russia-Ukraine conflict. He said the solutions to these challenges do not lie with governments alone, but the collective efforts of all and generation of ideas across all disciplines.
In her address COMESA Secretary General Chileshe Kapwepwe said the Forum is part of the efforts by COMESA to strengthen research and analytical work through involvement of a wider range of stakeholders, including the academia, private sector and think-tanks. The forum doubles as a capacity building platform where young professionals can develop research and analytical skills under guidance of experienced policy makers, researchers and professors.
"We are cognizant of the fact that our region requires a stable pool of experts in trade and trade-related areas to support policy making at national and regional levels," she said. "This is further necessitated by the multiplicity of trade negotiations under bilateral, regional and multilateral levels.
Ms Kapwepwe who addressed the meeting virtually observed that overcoming capacity gaps in the region will help Member States to better implement various trade commitments and the COMESA Treaty obligations and mobilization of support domestically for policy reforms while minimizing instances of policy reversals.
This year's Research Forum is funded by COMESA and European Union (through the Organisation of African Caribbean and Pacific States (OACPS)) under the TradeCom II Capacity Building Programme on "Enhancing COMESA Capacity in Trade Policy Analysis, Research and Training for Deeper Regional Integration and Participation in Global Economy"
OACPS Assistant Secretary General, Mr Oliveira Gomez addressed the forum virtually and stressed the need to work together to assist businesses including the small and medium enterprises to be competitive. Others that addressed the forum was Dr Sylvain Boko, representing the Africa Capacity Building Foundation, which supported the development of the COMESA Annual Research Programme, now in its 9th cycle.
The COMESA Innovation Awards will be one of the key features of the Forum. Innovation concepts that met the prerequisite criteria will be showcased on Wednesday. During the sessions, participants will also have a chance to hear the experiences of previous COMESA Innovation Award winners.