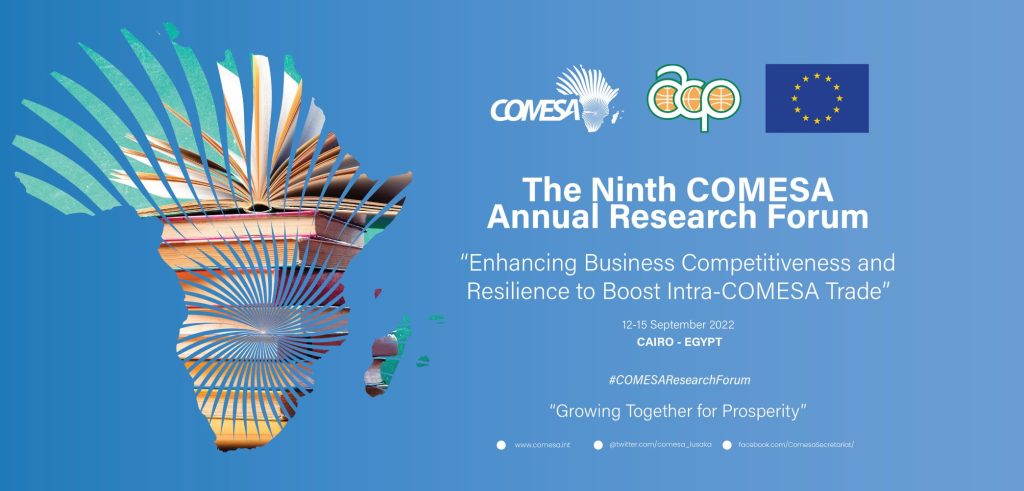 Lusaka, Friday, September 9, 2022:  The 9th edition of the COMESA Annual Research Forum takes Monday 12 to Thursday 15 September 2022 in Cairo, Egypt. About 100 participants comprising of policymakers, the academia, think tanks and the private sector are expected to attend physically and virtually.
The 9th Forum will address emerging topical issues in economics, trade and regional integration at continental and global level under the theme: "Enhancing Business Competitiveness and Resilience to Boost Intra-COMESA Trade" . This theme has been motivated by the need to create sustainable a recovery path by enhancing firms' competitiveness and resilience.
The forum presents an opportunity for researchers, policy makers and academia to dialogue and peer review research papers on various thematic areas. The final papers that meet publishing criteria are published in COMESA flagship publication "Key Issues in Regional Integration". To date nine editions have been published.
The policy implications from the papers will be presented to the COMESA policy organs to inform policy decision-making.
Another key highlight of the Forum will be the COMESA Innovation Awards .  The Awards are aimed at recognizing and celebrating individuals and institutions that use science, technology and innovation to advance regional integration agenda. Three innovation concepts that met the prerequisite criteria will be showcased in addition to three more from the AUDA-NEPAD.
This year's Research Forum is funded by COMESA and European Union (through the Organisation of African Caribbean and Pacific States (OACPS)) under the TradeCom II Capacity Building Programme on "Enhancing COMESA Capacity in Trade Policy Analysis, Research and Training for Deeper Regional Integration and Participation in Global Economy"
Delegates are expected from the 21 COMESA Member States and beyond.