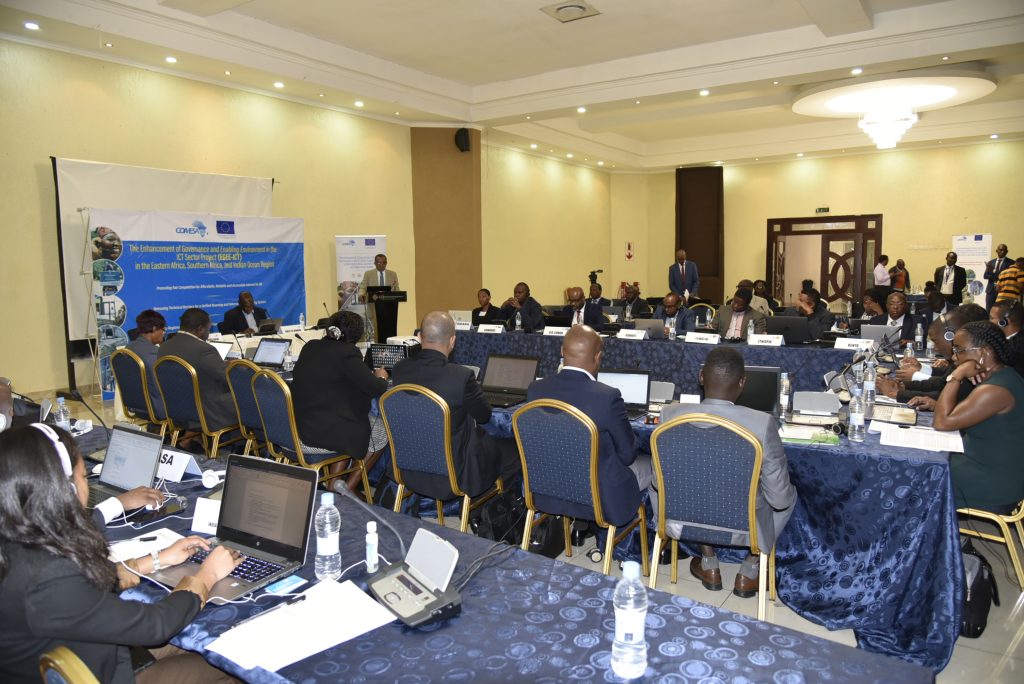 The Eastern Africa-Southern-Africa and Indian Ocean (EA-SA-IO) region is focusing on developing a regional model policy and regulatory frameworks for e-Commerce which will in turn facilitate several economic activities and contribute to economic development.
The benefits identified with having a well-functioning e-commerce sector includes reduced transaction costs, enhanced logistics, distribution and retail services and micro-small-and-medium-sized enterprises (MSMEs). These will be assisted to reach out to new markets and customers.
This was discussed during the validation workshop of the e-commerce study conducted under the European Union funded (EU) Enhancement of Governance and Enabling Environment in the Information Communication and Technology Sector (EGEE-ICT) programmme.
According to the project document, the penetration of mobile telephones in the EA-SA-IO region has increased because of both private and public sector investments in infrastructure.  Further, internet penetration is also rapidly growing and the socio-economic benefits of accessing and using ICTs, in particular the internet, are also rising as essential information and services, both in the public and private sectors, continue to move online.
Despite these positive developments, according to the project document, many people in the region are still not connected to e-commerce services, especially the internet, and the cost of internet access is prohibitive in most cases.
To improve the situation, the EA-SA-IO needs to harmonise policy in e-Commerce and supporting frameworks. Through the EGEE-ICT, the e-Commerce policy and frameworks can only be achieved after carrying out a thorough study of the state of e-Commerce in the region.
In this regard, a consultant was engaged to conduct an in-depth review of the policy and regulatory frameworks on e-Commerce and related policy, regulatory and administrative practices and processes in the region. After review, the consultant was expected to identify bottlenecks hampering the uptake of e-Commerce and propose a regional work programme which will guide and facilitate the development and adoption of regional e-commerce frameworks.
The meeting in Lilongwe, Malawi from 8 – 10 September 2022 was convened to present the draft report of the study and obtain feedback, opinions and impressions from Member States and strategic partners such as the Regional Economic Communities (RECs) for the purpose of generating the final version of the study report.
The consultancy was undertaken over five months with the baseline data and information encompassing status of connectivity and ICT infrastructure, logistics and trade facilitation, payment solution, business environment, skills development, policy and regulation, regional and international trade and taxation.
The meeting reviewed the proposed work programme on e-commerce and capacity building programs which guided discussions on how to advance the development and adoption of a Regional Framework/Agreement on e-Commerce over the next three years.
Speakers at the workshop included the Permanent Secretary in Malawi's Ministry of Information and Digitization Mr Francis Busika and the Director of Infrastructure and Logistics at COMESA Secretariat Mr Jean Baptiste Mutabazi.