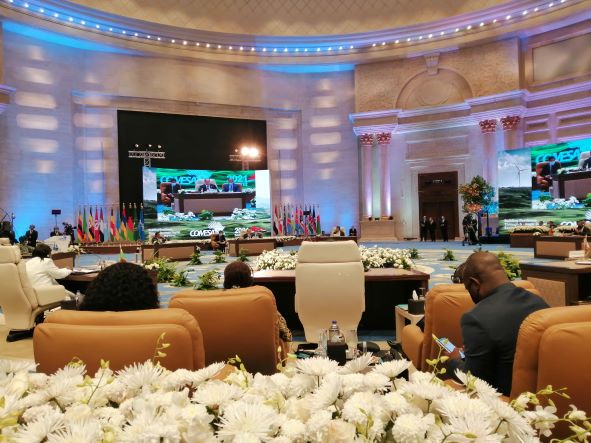 Cairo, Tuesday, November 23,2021: Egypt is the new Chair of the COMESA Heads of State and Authority after taking over from Madagascar that has been steering the organization since 2016. President Andry Rajoelina of Madagascar handed over the chair to to President Abdel Fattah El Sisi, Tuesday 23rd November in Cairo, Egypt, at the 21st Summit of the COMESA Authority of Heads of State and Governments.
Heads of State including President Evariste Ndayishimiye, (Burundi), Pres. Kais Saied (Tunisia), Pres. Mohamed Younes al-Menfi, (Libyan Presidential Council), Prime Minister Pravind Jugnauth (Mauritius), Pres. Wavel Ramkalawan (Seychelles), Pres. Mohamed Abdullahi (Somalia) and Pres. Paul Kagame (Rwanda) participated.
President El-Sisi commended his successor for leading the organization effectively and ensuring that regional integration programmes were implemented smoothly during his three years tenure as the chair. Madagascar has cumulatively chaired COMESA for the last five years.
The 2021 Summit was conducted physically in Cairo and virtually. Anchored on the theme "Building Resilience Through Strategic Digital Economic Integration" the Summit comes three years since the last was hosted by the COMESA Secretariat in Lusaka, Zambia, on 18 – 19 July 2018.
In his address, the new chair outlined the focus of his tenure which includes: eliminating barrier to regional trade, industrial integration to increase productivity; infrastructure development particularly transport, energy, communications and information technology; encouraging the flow of investments in the region; promoting regional integration in the health sector; creating a conducive business environment, particularly initiatives targeting digital transformation and financial inclusion to serve small- and medium-sized companies.
He called for concerted regional efforts to deepen integration and pointed out that his government has developed a regional integration framework in line with the COMESA Medium Term Strategic Plan 2021 – 2025.
In his speech President Andry Rajoelina of Madagascar said digital trade had been scaled up in the wake of the Coronavirus and its negative impact on regional and global economies. He congratulated President El Sisi for taking up the new role of steering the regional bloc.
The leaders who spoke at the Summit called for adoption of digital technologies, harmonization and adoption of policies that promote the creation of ICT systems in various sectors. They called for regional collaboration to implement programmes to promote economic recovery through trade and investments.
They further, stressed the need to develop green economies in the region in order to cushion the impact of climate change. They commended the COMESA Secretariat for implementing innovation systems such as the digital online platform that is expected to facilitate trade amid the COVID-19 pandemic.
Vice Presidents of Malawi, Uganda and Zambia and Ministers from D R Congo, Kenya and Zimbabwe represented their heads of State and presented their statements.
Egypt last hosted the COMESA Summit in 2001.