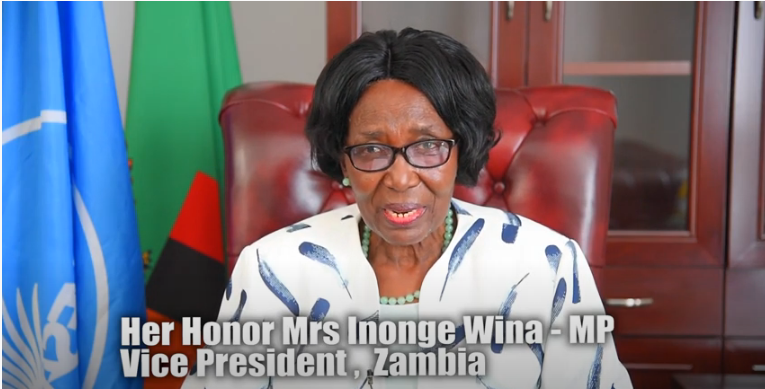 There is need for more development of electronic education (e-Education) and e-Health infrastructure especially in rural areas to ensure marginalized people are not cut off from development enjoyed in cities and urban areas at this time of COVID-19.
According the Vice President of Zambia Mrs. Inonge Wina, improvements in telecommunications have come to the rescue in the COVID-19 era through widespread use of electronic commerce and business transactions that have increased tremendously thereby sustaining businesses and economies.
She was speaking during the opening of the 41st COMESA Council of Ministers meeting on Thursday, 26 November 2020.
The VP emphasized that the quest for solutions to the challenges caused by COVID-19 should remain a priority in all Member States, given its catastrophic impacts on regional economies.
She said: "The main priority in this era of COVID-19 is to synchronise efforts by ensuring that trade corridors allow for quick movement of essential medicines, staple foods and other commodities in the COMESA region while reducing tariffs and other non-tariff barriers so that tradeable goods become more affordable and benefit citizens."
She added: "While the recent progress in the search for COVID-19 vaccines and cure is commendable, the endpoint was not yet clear, especially in view of the impact due to the high cost of vaccines in developing countries."
The VP called upon all Member States to honour their obligations to accelerate regional integration in tandem with the commencement of the African Continental Free Trade which comes into force in 2021.
In her statement, Secretary General Ms Chileshe Kapwepwe urged Member States to come up with smart initiatives to upgrade existing regional integration programmes to address the negative effects of COVID-19 on trade facilitation, which contribute to the economic wellbeing of the region's citizens.
"These programmes not only help unlock cross-border business transactions but stand right at the centre of offering long-term solutions to the challenges brought about by the COVID-19 pandemic," she noted. She added that it is such programmes that have provided opportunity to implement automation of customs operations and effectively upscale the use of technology and update of the envisaged in the COMESA Digital Free Trade Area.
She concluded that effective implementation of these programmes will require seamless coordination between the Secretariat and Member States as well as effective coordination amongst implementing agencies.
The two day virtual meeting was chaired by the Minister of Trade and Industry of Madagascar, Hon Lantosoa Rakotomalala. Ministers and their representatives from the 21 Member States attended.