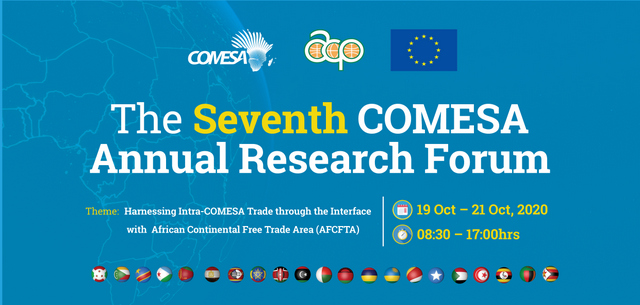 Monday, 19 October 2020: The 7th COMESA Annual Research Forum begun today with over 80 participants comprising of the academia, think tanks, government officers and the private sector from across the region and Africa attending.
Secretary General of COMESA, Chileshe Kapwepwe opened the virtual forum with keynote address made by the Director, Capacity Building Development, United Nations Economic Commission for Africa (UNECA), Dr. Stephen Karingi and the Assistant Secretary General Structural Economic Transformation and Trade, Organisation of African, Caribbean and Pacific States (OACPS) Mr. Escipión J. OLIVEIRA GÓMEZ.
The three day forum is funded by COMESA, OACPS and the European Union (EU) to discuss emerging topical issues in regional integration. The theme for this year is: "Harnessing Intra-COMESA Trade through the Interface with African Continental Free Trade Area (AFCFTA)".
The Forum will peer review nine best research papers selected from a list of 39 submitted to COMESA. This was in response to a call for papers made early this year. Key topics covered include COMESA industrialization programmes and the AfCFTA; AfCFTA opportunities and challenges to boosting Intra-COMESA Trade; COMESA Role in Implementation of the AfCFTA; COMESA trade in services liberalization and the AfCFTA; and AfCFTA and COMESA trade regimes.
Mr. Prudence Sebahizi, the Chief Advisor of AfCFTA & Head of AfCFTA Negotiations Unit, Africa Union Commission (AUC) kicked-off the presentations with a status report on the AfCFTA negotiations and the Interface between AfCFTA and Regional Economic Communities.
Press Release: Press Release – Continental and Regional Trade Regimes need proper management to succeed
Brief about the COMESA Annual Research Forum
Programme – The Seventh COMESA Annual Research Forum rvs
Keynote Address by Dr Stephen Karingi at COMESA Annual Research Forum 19 October 2020
Speech by COMESA Secretary General at the 7th COMESA Research Forum – 19 October 2020