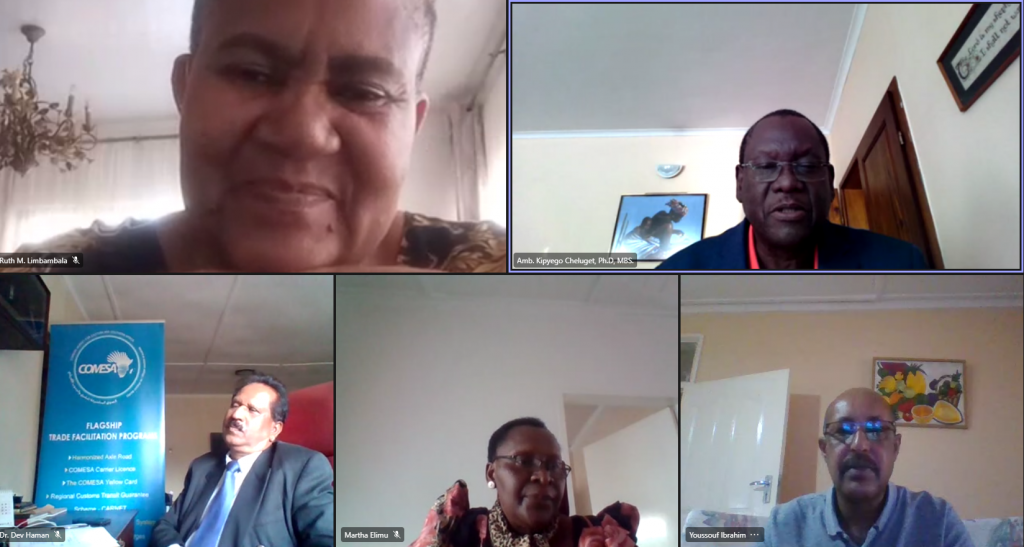 COMESA Secretariat has bid farewell to three members of staff including the Director of Human Resources and Administration (DHRA) Mrs Martha Elimu whose last working day is 14 September 2021.
Mrs Elimu, who has reached retirement age, is leaving after working for the Secretariat for 9 years having joined as the Chief Human Resources Officer in 2012 and becoming the DHRA in 2018. Others bidding farewell are Mr Youssouf Ibrahim an IT Expert who has served COMESA for 12 consecutive years as Automated Data Processing Expert for the ADP ASYCUDA programme.
Others are Mrs Ruth Limbambala who has worked for the organization for 38 years. She joined the then Preferential Trade Area from its inception in March 1983 and worked in the office of the Secretary General serving the first six Secretaries General from the time of the PTA to COMESA before moving to other divisions including the COMESA Court of Justice.
Speaking during the virtual farewell ceremony held on Wednesday, 25 August 2021, Secretary General Chileshe Kapwepwe commended the three for having served the organization with diligence and contributed to the deepening of regional integration programmes.
"We are celebrating, instead of being saddened by your departure from service. Colleagues, this is because we all cherish and hold deep in our hearts, fond memories of the high-quality professional interactions we shared with you," SG Kapwepwe said.
The Secretary General described Mrs Elimu as a pillar of human resources and administrative strength, coming with extensive experience and valuable institutional memory.
Mr Ibrahim was described as having been the go-to expert on ASYCUDA matters, making the project, in a humble, mature and proactive manner, respected by stakeholders. While Mrs Limbambala was commended for her high level of professionalism, alertness and conscientiousness, coupled with excellent grooming and deportment, qualities which have been regular highlights during all COMESA meetings.
Also in attendance during the virtual farewell ceremony was the Assistant Secretaries General for Programmes and Administration and Finance Dr Kipyego Cheluget and Dr Dev Haman both of whom commended the three colleagues for their hardwork and commitment to duty.
The three staff thanked executive management for having provided wise counsel and guidance throughout their stay and service to COMESA Secretariat.