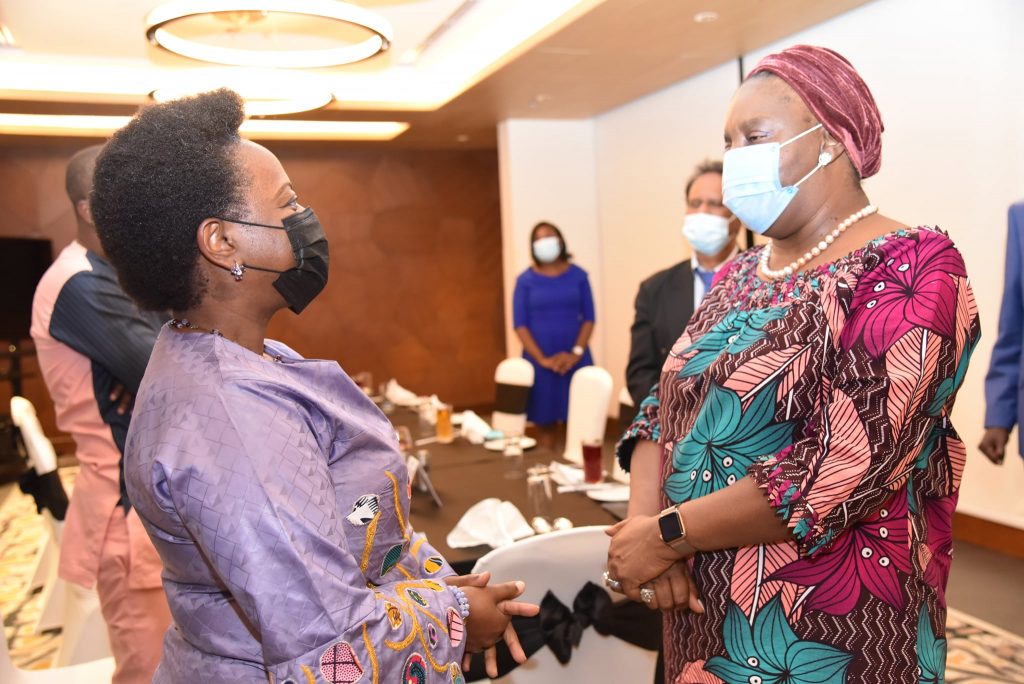 COMESA Secretary General Chileshe Kapwepwe recently met the African Union (AU) Deputy Chairperson Her Excellency Dr. Monique Nsanzabaganwa in Lusaka, where they discussed various issues of integration. This was their first meeting after assuming high offices at COMESA and the AU respectively.
During the brief meeting, Ms Kapwepwe who was accompanied by her two Assistant Secretaries General Amb. Kipyego Cheluget in charge of Programmes and Dr. Dev Haman in charge of Administration and Finance, updated the AU Vice Chairperson on a number of integration programmes being implementing by COMESA.
These included highlights on the innovative digital programme on value and supply chains which has resulted in the development of e-payment, e-logistics, e-trade platforms to help facilitate trade in the region amidst the COVID-19 pandemic.
"Your excellency, the COVID 19 pandemic has actually opened our eyes we have since started to increase production of goods locally through the established value chains in the region due to shortages of essential commodities during the COVID," Ms Kapwepwe said.
This she said will result in high production of materials locally leading to industrialization in the region.
She added that with the help of development partners such as the European Union and the African Development Bank, COMESA has created online trading platforms which are currently being used by various Member States.
"Due to digitalization, we are encouraging young people to come on board as they are more tech savvy and therefore the need to harness more of their innovations to improve the online trading platforms,"
Dr. Nsanzabaganwa appealed to all the Regional Economic Communities in Africa to embrace technology in order to improve productivity.
"it's Africa's time to ensure that we stand on our own and produce enough for our own consumption without depending on other parts of the world. I know that we can do it especially if we stand as a united force because we have what it takes to be self-reliant," Dr Nsanzabaganwa noted.
The AU Deputy Chairperson was in Zambia to attend the inauguration of Zambia's 7th Republican President His Excellency Hakainde Hichilema.