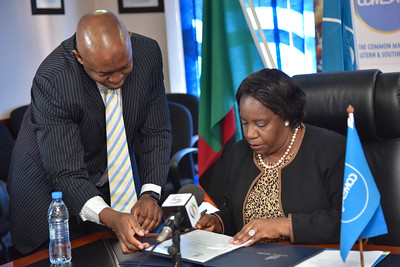 Lusaka, Thursday, Feburary 20, 2020: COMESA and the World Intellectual Property Organization (WIPO) have signed a cooperation agreement for collaboration in capacity building programmes on Intellectual Property Rights (IPRs) for COMESA Secretariat staff and Intellectual Property Officers in Member States.
The Agreement will support awareness creation on the importance of IPRs and assist to develop programmes in the COMESA region to support inventors in protecting their inventions.
WIPO Director General Mr. Francis Gurry signed the Cooperation Agreement on 10th February 2020 in Geneva, Switzerland while COMESA Secretary General (SG) Chileshe Mpundu Kapwepwe signed on Thursday, February 20, 2020 at her office in Lusaka.
"The Agreement demonstrates the desire of WIPO and COMESA to promote knowledge-based trade and the need to protect and ensure sustainable usage of IP for the benefit of the region and the African continent as a whole," she said.
"Through signing of this Cooperation Agreement COMESA is taking strides to partner and form an alliance with WIPO in the quest to attain trade diversification into knowledge driven commerce in the realm of IPRs."
The Agreement comes at a time when the COMESA-EAC-SADC Tripartite Free Trade Area Agreement and AfCFTA negotiations are proceeding to Phase II, with IPRs forming part of these negotiations, thus underscoring the need for diversification of the regional and continental economies from tangible goods to "intangible" knowledge-based assets.
"COMESA will be calling upon WIPO for technical support to the negotiations to ensure that the region and the continent obtain the best possible result for the IP package of the negotiations," the SG said.
WIPO and COMESA entered into their initial Cooperation Agreement in 2003 with a limited scope of cooperation. Over the years, the IPR landscape has changed into what it is now 17 years after.
WIPO is an intergovernmental organization situated in Geneva, Switzerland and functions as a global forum for intellectual property services, policy, information and cooperation. It was established in 1967 and has 192 Member States.