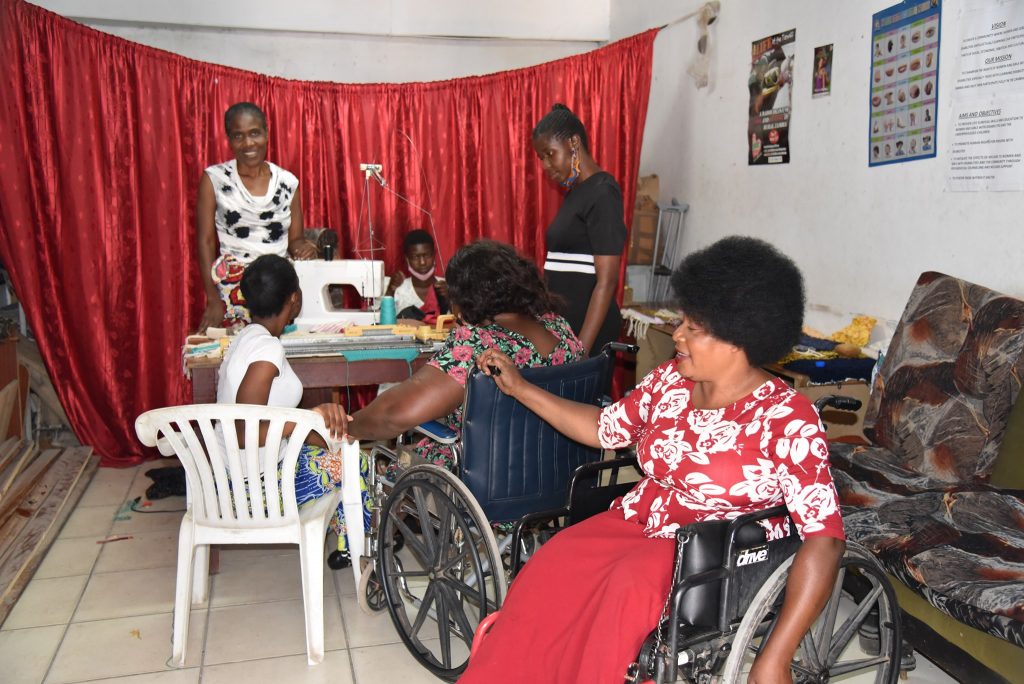 Despite the many challenges being faced in the textile and garment sector in Zambia, differently abled persons in Ndola District in the Copperbelt Province have found their livelihoods in production of garments. This has been made possible through a capacity building programme supported under the COMESA Regional Integration Support Mechanism (RISM).
Gellophina Skills Academy for Persons with Disabilities, is one of the institutions that is now producing garments for sale to the local market. According to the Director, Mrs. Jessy Banda Kapato, people with disabilities are often left out of economic activities hence the formation of the Academy to provide them with alternative means of livelihood.
She was speaking during a visit by a joint team from COMESA and the Zambia Ministry of Commerce, Trade and Industry, the Zambia Leather Industries Association and the Cotton Association of Zambia on 26th October 2020.
Mrs. Kapato, who is a Master Weaver, trained through the RISM Support, said once the facility is fully completed, it will provide training as well as accommodation for the learners on one side and a full-fledged textile production value chain which shall ensure its sustainability.
"The training is effective in empowering learners with disabilities for their self-sufficiency and contribute to the economy," she said adding that her organization has started building a center of excellence which shall accommodate some of those with disabilities.
RISM Coordinator Mrs. Hope Situmbeko said it was important to bring onboard persons with disabilities to identify themselves among keys players in the textile value chain. She urged the Ndola Textile Cluster to create structures that builds confidence among its members and allows for expansion of capacity to develop products that are attractive to the regional and global markets.
Further, she urged the cluster to create partnerships with other sector players to establish joint production and supply to meet market demand through a value chain approach.