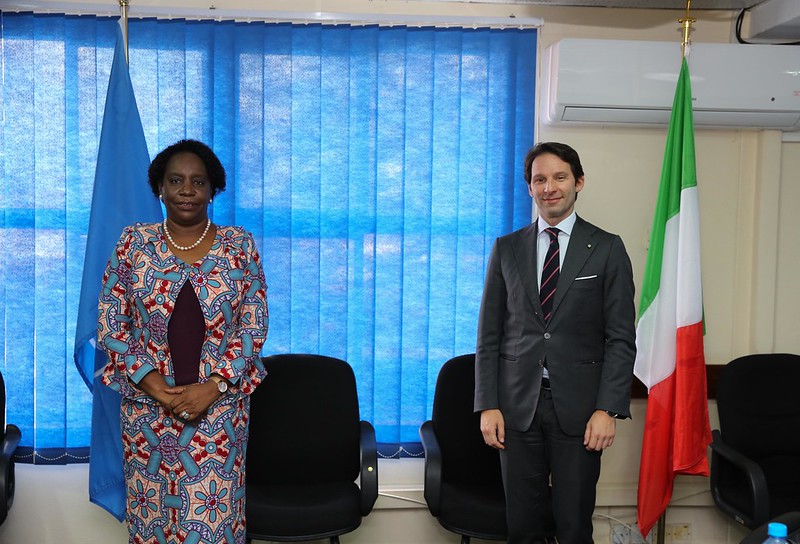 The Italian Government has conferred on COMESA Secretary General Chileshe Kapwepwe "the Night of the Star of Italy Award" for her support and resilience in the promotion of the relationship between Italy and the Members of the regional bloc.
The presentation of the award will be done in June this year during an art gallery exhibition to be conducted in Lusaka, Zambia, depicting the importance of energy on the social and economic development of the COMESA region.
Italian Special Representative to COMESA and Ambassador to Zambia,  Antonino Maggiore disclosed this when he paid a courtesy call on the Secretary General, Tuesday April 13, 2021 at the COMESA Secretariat.
"The reason I wanted to meet you is to continue our concrete and fruitful cooperation and share with you a project idea and to inform you that the President of the Republic of Italy, has awarded you with a special recognition for your resolve, in supporting and promoting the relationship between Italy and COMESA," Ambassador Maggiore said.
He said that the award is an order that Italy has created for people that have played a key role in promoting the country's relationship with the other parts of the world.
Ambassador Maggiore said the art exhibition shall not only promote economic development but also cultural development, as well as people to people development.
"As you know art promotes creativity, imagination, development, economic enterprises, and therefore our youths shall be inspired to startup some businesses in the energy sector by simply seeing what these artists shall bring to the fore on that day in June," he said.
Secretary General thanked the Italian Government for the gesture. She dedicated the award to COMESA staff and the Member States as an acknowledgement of the  support rendered to  her as she steers the regional bloc.
Madam Kapwepwe underscored the deep rooted relationship with Italy that dates back many years and looked forward to continued collaboration, with  particular interest in small and medium sized enterprises, whereby a lot of them are trying to get onto the global stage, especially in areas like apparel, in which Italy is strong.
"It's not just for me, it's for the region and most importantly, the little girl somewhere, who can also look up and say, one day, I can do that," she said.
She added that COMESA is currently rolling out two projects funded by the World Bank, which will be addressing energy infrastructure and assured the Ambassador of COMESA's willingness to work together on the project.