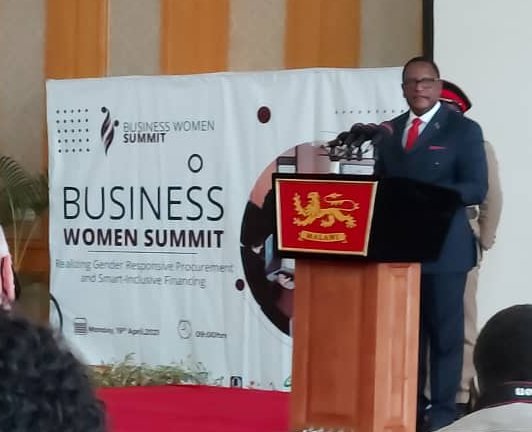 The COMESA Federation of Women in Business (COMFWB) held a Businesswomen Summit in Malawi on 19th April, under the theme "Realizing Gender Responsive Procurement and Smart Inclusive Financing."  The President of Malawi HE Dr. Lazarus Chakwera graced the event.
During the Summit, a High-level Panel Discussion on "Financial Inclusion and the Need for Increased Investment in Women" was also conducted. Discussions featured the bankers' association, country heads of missions of the United Nations, African Union (AUSARO) the European Union and the African women leaders network among others.
President Chakwera spoke at the launch ceremony during which he emphasized the need for women to establish reliable sources of funding from within the country as well as the region to build their business.
"For a longtime now, women have lagged in business because of lack of access to finance as start-up for their businesses," he noted adding that his government is putting in place measures to increase women's participation in business activities.

"We as government are providing incentives to entrepreneurs by encouraging the formation of cooperatives, for in numbers there is complementation of skills," said the President.
Further, he said the Malawi National Economic Empowerment Fund ought to be a key tool for bridging the financial gap experienced by entrepreneurs by providing business capital. He promised that his government shall prioritize business opportunities through a recent gazette directive known as "SME Order" to Government Ministries, Department and agencies to support local SME's.
This, he observed, will encourage women entrepreneurs to continue taking great strides and realizing their own economic independence.
COMFWB Chief Executive Officer Ms. Ruth Negash said women's collateral status does not define their ability to become bankable
"Women are excellent money managers and not having collateral is not an indicator to that they are not credit-worthy," she said.  "Most women were credit-worthy, as they are involved in complex financial processes through home-based institutions such as village savings and loan groups."
She added that despite limited incomes, women have skills to stretch meagre household budgets to feed their immediate family, help close relatives, be part of community and religious activities and still manage to run their small businesses.
"What remains now is for governments and financial institutions to create facilities to advance their businesses," she added.
COMFWB Malawi Chairperson, Barbara Banda said that access to financial services and financial literacy materials would empower the operations of women entrepreneurs to maintain their businesses and avoid the challenges they face.
According to Ms. Banda over 80% of Malawi's national budget is spent on tendering processes for goods and services, with women receiving about 1% of all bids.
Dr. Amani Asfour, the Chair of both Egypt COMFWB chapter and African Business Council said  Malawi can adopt 30% of public procurement to go to businesswomen to start seeing more representation and economic growth. She cited lessons from regional countries such as Kenya and South Africa that have adopted polices of awarding public procurement for women businesses at 30% and 40% respectively.
"Firstly, Malawi could preserve specific portions that would be open to women, youth and disabled persons-led organizations in the bidding process. Secondly, government regulators and mobile network operators should start to offer more digital payment systems solutions," Dr Asfour said.
This will help women not only connect with one another, but also ensure that payments are processed quicker using digital technologies, she concluded.