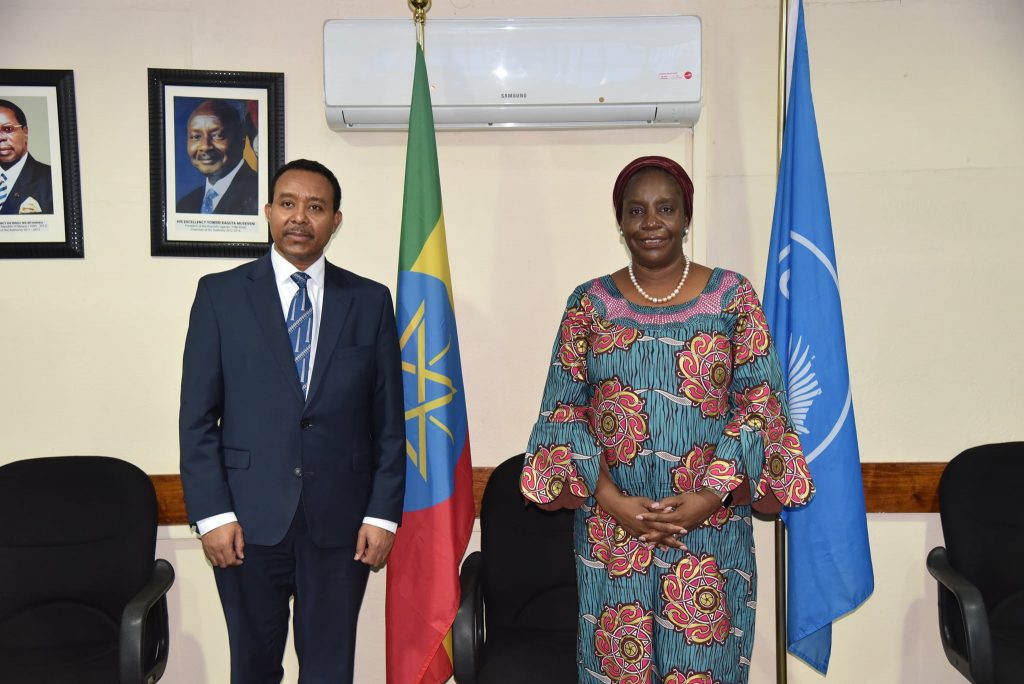 Lusaka, Friday, April 30, 2021: The ratification of the Tripartite Free Trade Area (TFTA) and signing of the COMESA Social Charter were among issues discussed during a courtesy call by the Ethiopia's Ambassador to Zambia and Zimbabwe H.E Addisu Abera and the Secretary General of COMESA Chileshe Kapwepwe today.
During the meeting which focused mainly on the developments in Ethiopia and its participation in COMESA's regional integration programmes, the Ambassador also sought COMESA's support to Dr Arkebe Oqubay, as Africa's sole Director-General candidate for the United Nations Development Organisation (UNIDO).
On TFTA, the Secretary General urged the Ambassador to lobby his government to sign and ratify the Agreement to enable it to enter into force. So far, 10 countries in the COMESA, EAC and SADC regional blocs have ratified the TFTA with four more needed to attain the ratification threshold of 14 States.
In February this year, the Tripartite Council of Ministers set a new deadline for countries that have not yet ratified the agreement to do so by June which will the sixth anniversary since the launch of the TFTA Agreement on 10 June 2015 in Egypt.
Amb. Abera who is resident in Harare, Zimbabwe reiterated his government's commitment to COMESA whose programmes have continued to benefit the people of Ethiopia and the region. Ethiopia has been the Rapporteur of the COMESA Policy Organs since 2016 after serving as Chair of the Authority and Vice Chair respectively
Earlier this year, COMESA and Ethiopian government signed a 5.6 million Euro sub-delegation agreement to improve coordinated border management, trade, and transport facilitation at the Moyale and Galafi border posts. Moyale and Galafi borders link Ethiopia on one hand to Kenya and Djibouti on the other.
Ethiopia also hosts the African Leather and Leather Products Institutes which is a specialized COMESA institution.