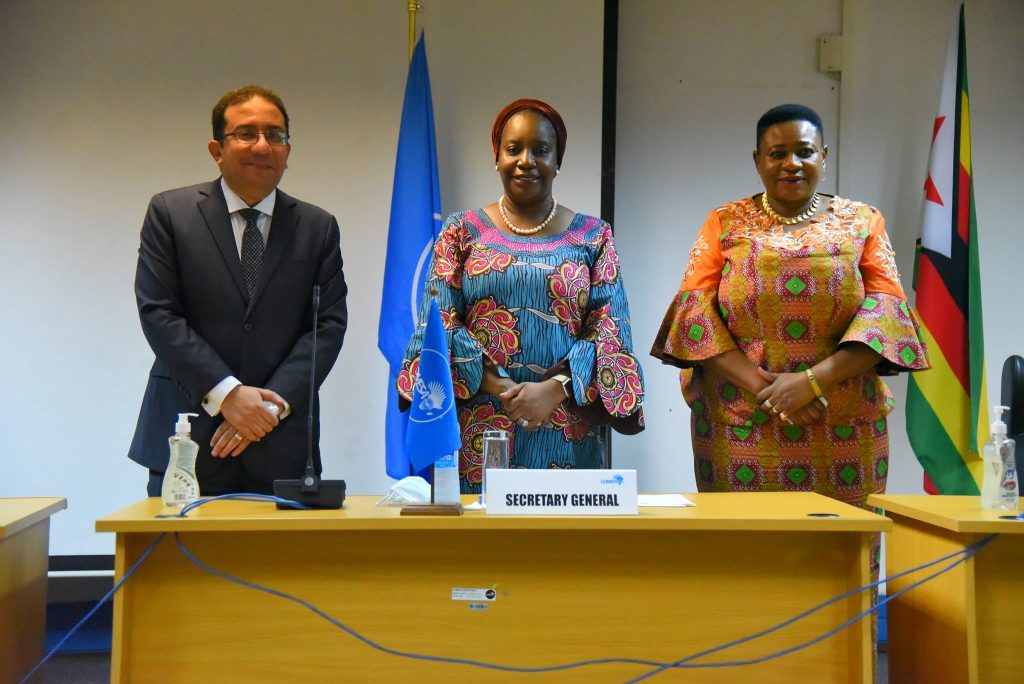 Lusaka, Friday, April 30, 2021: Newly appointed ambassadors of Egypt and Zimbabwe to Zambia have been accredited as Permanent Representatives of their respective countries to COMESA. H.E Charity Angelina Charamba (Zimbabwe) and H.E Moataz Anwar (Egypt) presented their letters of credence to the Secretary General of COMESA, Chileshe Kapwepwe on Friday, 30 April 2021.
The two underlined their governments' commitment to the regional economic bloc given the large market it provides for trade.
"Zimbabwe has continued to benefit from the different trade and integration programmes that are being implemented by COMESA with support from cooperating partners such as the European Union," Amb. Charamba said.
In February, COMESA and Zimbabwe signed an agreement that sub-delegated the implementation of Coordinated Border Management activities including the trade and transport facilitation activities at the Chirundu border post.
The sub-delegated activities are worth Euro 4.1 million and will support upgrading of priority cross-border infrastructure and equipment at Chirundu border between Zimbabwe and Zambia and enhance trade between the two States.
Ambassador Anwar commended COMESA for deepening economic integration and promoting regional cooperation among the Member States.
Ms Kapwepwe appreciated the good working relations with both countries which has enabled implementation of country specific programmes. Through the COMESA Adjustment Facility, the Secretariat has helped revive the textile sector by providing financial support/grant to Zimbabwe.
A joint industrialization cooperation programme, between Zimbabwe and Zambia has also been supported to develop priority sectors including agriculture and agro-industries, mining and mineral processing, petrochemicals, fertilizers and pharmaceuticals, capital goods industries, textiles, and forest-based industries, among others.
On Egypt, the SG said the country accounts for the largest share of intra-COMESA trade at 28% of the total trade.
This year, Egypt will host COMESA Heads of State and Government Summit.