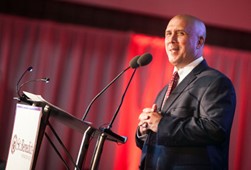 The Alliance for Commodity Trade in Eastern and Southern Africa (ACTESA) has unveiled a new board of directors to lead this specialized institution of COMESA whose primary role is to promote trade in agricultural commodities.
The board is comprised of members from partner organizations including: COMESA Member States of Egypt and Madagascar; Southern African Confederation of Agricultural Unions (SACAU); East African Farmers' Federation (EAFF); African Fertilizer Agribusiness Partnership (AFAP); African Seed Trade Association (AFSTA); African Development Bank Group (AfDB) and Eastern African Grain Council (EAGC).
The inauguration of the Board was conducted on 17 My 2021, six months after the COMESA Council of Ministers gave the nod on its 41st meeting held on 26 November 2020. Mr. Jason Scarpone, President, and chief executive of AFAP was elected ACTESA Board Chairperson while Dr. John Mukuka was appointed Interim Chief Executive Officer.
With the board in place, ACTESA is expected to effectively address food security challenges in the Eastern and Southern Africa (ESA) region through improved competitiveness of staple food markets and the development and harmonization of regional agricultural policies.
In line with its new Strategic Plan 2021-203, ACTESA is expected to provide an answer to the region's agricultural challenges, including market access-related constraints, low productivity, technological and policy-related constraints.
Mr. Scarpone expressed gratitude for the appointment noting his previous working experience with COMESA Regional Agro-inputs Programme (COMRAP) between 2010 and 2012.
"I look forward to having ACTESA assist the private sector in developing agribusiness in the COMESA Member States," he said.
Secretary General of COMESA, Ms. Chileshe Kapwepwe, observed that with the new governance structure in place, ACTESA should deal with the practical implementation of agricultural programmes such as the enhancement of the regional value chains to exploit economies of scale, lower production, and marketing costs, and assist in removing non-tariff barriers.
"Given that most COMESA Member States mainly export primary commodities, ACTESA's role will be key in facilitating input supply chain in the region to stimulate productive synergies within the continent and ultimately boost intra-Africa trade currently at 20% across all commodities," she noted
Going forward, ACTESA is expected to work with alliance partners that include private sector actors (staple food and seed traders), governments, farmer organizations, trader organizations and agricultural-based NGOs to deliver inclusive impact-oriented programs in the region.
The alliance partners are already in existence at the national and regional levels and will therefore assist in catalysing and supporting the achievement of tangible results and contribute to the development of the value chain in areas that relate to policy, markets, trade, and stakeholder capacity building.