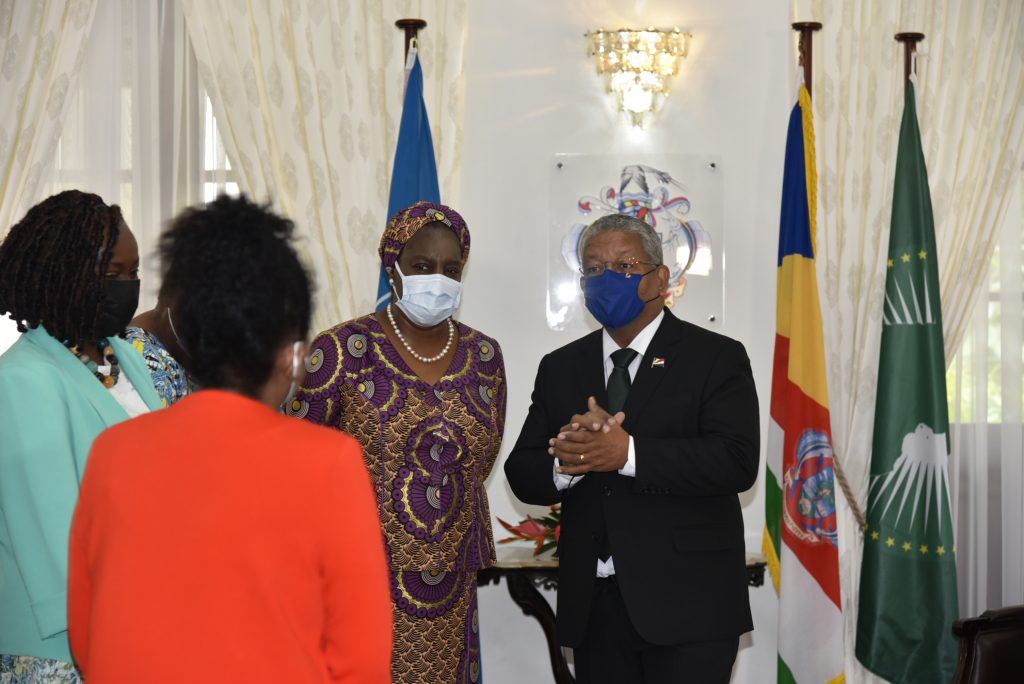 The President of Seychelles His Excellency Wavel Ramkalawan has affirmed his government's commitment to COMESA and called for deepening of regional integration through increased intra-regional trade among the 21 Member States.
President Ramkalawan says the COMESA region needs to move from mere discussions and signing of agreements to implementing decisions that will produce tangible progressive results which will have a positive impact on the lives of its citizens.
He was speaking at State House in Victoria on Mahe island in Seychelles on 31st August 2021 when he met COMESA Secretary General Chileshe Mpundu Kapwepwe who was on a four-day official visit to that country.
"My government is committed to COMESA and expect our full support. As an organization, we need to move to making positive impact on the ground. We need programmes that our people will directly benefit from. Decisions made at the various meetings need to be implemented," said President Ramkalawan.
He also talked of the need to have a more affordable air transport system with easy connectivity which could boost intra-COMESA trade as goods would move from one country to another without much delays and at a reasonable cost.
On her part, Secretary General Kapwepwe commended Seychelles for consistently being an active member of COMESA and believing in its ideals. She said COMESA's current strategy which focuses on economic prosperity through regional integration is meant to positively transform the lives of the people and bring about sustainable economic development.
She mentioned some of the key benefits that COMESA offers such as a harmonized trade regime, a more competitive market, greater industrial productivity and competitiveness, more harmonised monetary, banking and financial policies and more rational exploitation of natural resources.
She also commended Seychelles for always paying its subscription fees on time a move that contributes to the Secretariat implementing set programmes.
During the working visit, SG Kapwepwe held bilateral meetings with various Ministers including Minister of Foreign Affairs and Tourism Hon. Sylvestre Radegonde, Minister of Finance Hon. Nadir Hassan, Minister of Investment, Entrepreneurship and Industry Hon. Mrs Devika Vidot, Minister of Youth, Sports and Family Hon. Mrs Marie Celine-Zialor and the Minister of Agriculture.
The COMESA SG was accompanied by the Director of Information and Networking Ms Lanka Dorby, Director of Industry and Agriculture Mrs Providence Mavubi and Mrs Muzinge Chibomba from the Corporate Communications Unit.