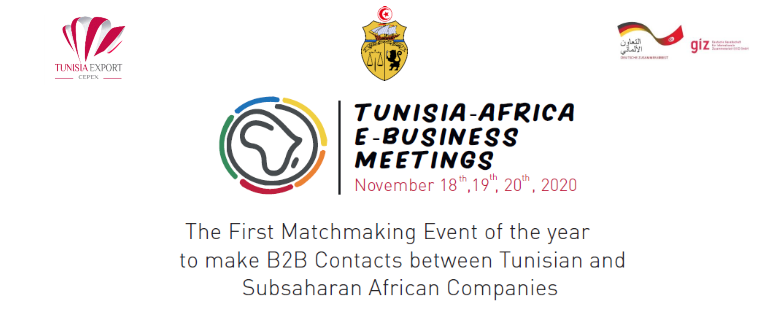 The Tunisian Export Promotion Center – CEPEX in partnership with GIZ, in the context of the German Development cooperation with Tunisia, organized an online business-matching event dubbed "Tunisia Africa E-Business Meetings on 18th-19th and 20th of November 2020.
The event brought together more than 600 Tunisian exporting companies and partners from Sub-Saharan African countries to a B2B forum based on virtual and direct business meetings in several sectors of activities.
The main objective of the event was to promote South-South partnership and boost economic exchanges between African countries. This is expected to be achieved through consolidating economic relations through Networking, identifying new opportunities for cooperation with African economic operators, mobilizing all actors towards better African integration and boosting intra-African trade exchanges.
Key sectors represented at the forum were: Food and Agribusiness, Construction, Building, public works & heavy equipment, mechanical, electrical and electronic, healthcare, training, education and higher learning, textile, apparel & leather and footwear, chemicals and chemical products, wood and wood products, audit, consulting, accounting, services for compagnies and ICT.
Keynote speakers included the Head of the Tunisian Government, Excellency Mr. Hichem Mechichi, Minister of Trade and Export Development, Hon. Mr. Mohamed Boussaid, Commissioner, Trade and Industry at the Africa Union Commission, Ambassador Albert Muchanga, the Director of the African Institute for Economic Development Planning Mrs. Karima Bounemra and COMESA Secretary General Chileshe Kapwepwe.
In her statement, Ms Kapwepwe hailed Tunisia and other Member States on the innovative ways that governments and businesses were adapting to find solutions that forestall the negative impacts of the COVID 19 pandemic and maintain their growth trajectories.
This post is also available in: Français (French)