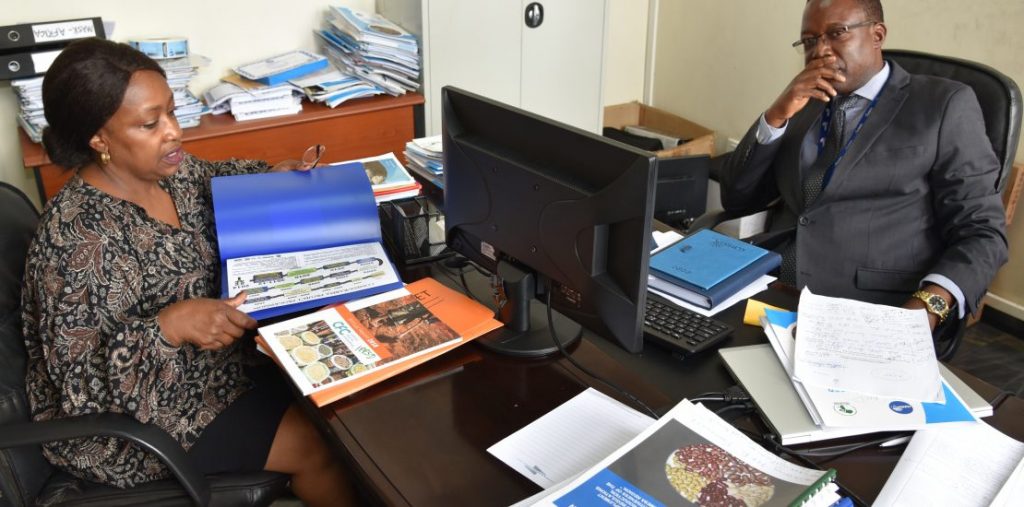 COMESA/ACTESA and the Regional Network on Agriculture Policy Research Institutes have agreed to strengthen the relationship in the areas of agriculture policy research and outreach in the region through an existing Memorandum of Understanding (MoU).
The MoU seeks to establish a framework within which the parties will jointly explore and coordinate policy research and development activities that are of mutual interest in a manner that conforms to their respective policies; and to encourage joint efforts on the basis of equality and mutual benefit.
This came to light after Acting ACTESA CEO, Dr. John Mukuka, met with Dr. Nalishebo Meebelo, Head of the Secretariat of the Regional Network or Agriculture Policy Research Institutes (ReNAPRI) at COMESA Secretariat in Lusaka on Monday 10 February 2020.
During the meeting, Dr Mukuka welcomed the initiative to revive the relations between COMESA and ReNAPRI adding that the role of concrete evidence in the formulation of agriculture-related policy and decision-making is cardinal to the development of the region and the continent as a whole.
He said ACTESA was ready to partner with ReNAPRI under the MoU with COMESA and to pursue potential areas of collaboration in 2020 and beyond.
"As COMESA/ACTESA, we look forward to increased collaboration between us so that we can help reduce the poverty levels of our people in the region and beyond through agriculture research which will assist us revamp the ailing agriculture sector due to climate change," Dr Mukuka said.
Dr Meebelo said COMESA was an attraction to ReNAPRI due to its focus on strengthening trade related capacities for increased markets access and generally, its interest in enhancing agricultural development, food and nutrition security. She said ReNAPRI was well positioned to be the 'go-to' Think Tank for the region, and to heighten the visibility of COMESA through its communication and outreach platforms.
"The network, therefore, seeks to strengthen collaboration amongst national policy institutes within the Eastern, Southern and West Africa regions to provide relevant and timely national and regional policy support to stakeholders such as national governments and Regional Economic Communities (RECs)," she added.
Established in 2012, ReNAPRI's vision is to support leading national agricultural policy research institutes in Eastern, Southern and West Africa to be centres of excellence that guide and inform national and regional agricultural and food security policy issues. ReNAPRI's mission is to support dynamic collaboration amongst national agricultural policy research institutes to produce sustainable and high-quality research, outreach and capacity development that promotes national and regional agricultural policy objectives.
ACTESA is a specialized agency of COMESA formed to address staple food production and marketing in order to increase market access; food production; food productivity and removal food trade barriers. ACTESA implements programmes that enhance national and regional staple food trade and seek to attract agricultural growth and accelerate broad-based poverty reduction in the Eastern and Southern Africa sub-region.