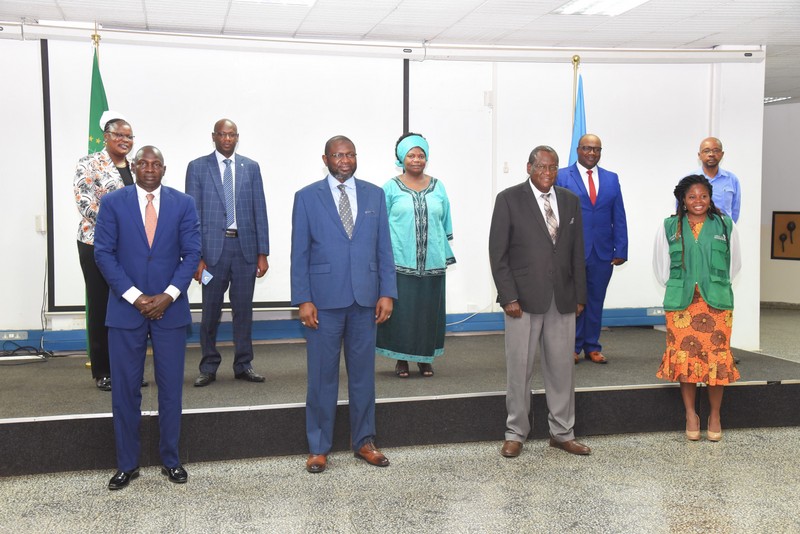 Lusaka, Monday, December 7, 2020: Discussions between the Africa Center for Diseases Control and Prevention (CDC) and COMESA are on course to establish useful collaborations on healthy trade during and post Covid-19. The envisaged partnership will include provision of technical support on public health to trade facilitation initiatives to protect lives and livelihoods.
The initiative is in line with Africa CDC's Mission to support Member States' public health initiatives and strengthen the capacity of institutions to detect, prevent, control and respond quickly and effectively to threats of disease, man-made conflicts and natural disasters.
Africa CDC Deputy Director, Dr Ahmed Ogwel Ouma, who was on a visit to COMESA Secretariat, Monday, 7 December 2020, said regional organizations in Africa  have institutions capable of responding to the current and emerging challenges such as those associated with pandemic. What was lacking is harnessing their synergy based on their comparative strengths.
"Our capacities are not talking to each other," Dr Ouma noted. "We need to harness them for effective response."
As a result, he said, CDC has developed guiding principles on how to open up borders safely and allow people to move freely and conduct trade across in various regions of the continent. CDC has also initiated a campaign to open up Africa for trade with three objectives: minimizing the number of infections, opening up economies to continue to grow and ensuring that learning institutions in the continent are opened.
The collaboration with COMESA will be on trade related issues to ensure harmonized messaging across the region and capacity building on health.
"As trade guidelines are developed and implemented across the region, Africa CDC would like to be involved to ensure public health measures are incorporated to prevent likelihood of possible diseases transmission through trade," Dr Ouma said.
The meeting agreed on the need to work in partnerships that cut across member States noting that joint initiatives are easily facilitated with resources than a sole approach. Among the intervention proposed was COMESA's support to Member States in manufacturing good quality products for health responses for internal trading to avoid over-reliance on foreign products.
CDC expressed interest to attend COMESA policy organs meetings to advise on public health matters in policy making. CDC will also identify a focal point to coordinate activities with COMESA, including capacity building,  given that the latter does not have health experts.
Assistant Secretary General Dr Kipyego Cheluget, who received the CDC team said COMESA will invite the participation of the CDC in the next policy organs meetings.
He informed the CDC team that COMESA has already conducted a study on the socio-economic impacts of the Covid-19, which will be shared shortly. Further, that a joint meeting of technical staff will be organized to work out the modalities of collaboration.
Africa CDC is a public health agency of the African Union established to support the public health initiatives of Member States and strengthen the capacity of their health institutions to deal with disease threats.