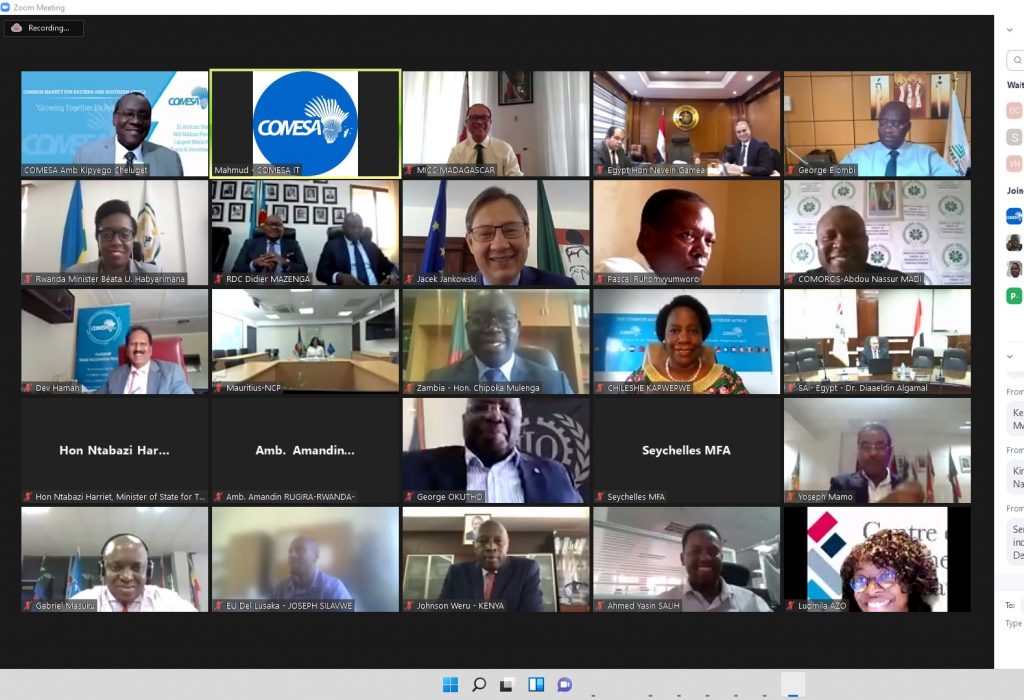 Lusaka, Tuesday, 09 November 2021: The COMESA Council of Ministers Meeting conducted their 42nd meeting today, to take stock of the status of implementation of regional integration programmes in the last one year.  Attended by Ministers responsible for trade, commerce, industry and foreign affairs, the meeting received reports of the sectoral meetings that have been held to date.
The Vice President of Zambia, Hon. Mrs. Mutale Nalumango opened the meeting. She commended COMESA for embracing information and communication technologies in the implementation of the various trade facilitation programmes.
These include automating customs clearance procedures, the online non-tariff barriers reporting and monitoring system as well as the electronic Certificate of Origin prototype. The prototype is ready for piloting and it is expected enhance cross-border trade and investments.
"Digital trade is now shaping the global economies. It is important that we remain relevant in the global market by embracing the new ways of integration with others…especially in the COVID-19 era and post COVID," she added.
Addressing the Ministers, Secretary General Chileshe Kapwepwe said a study undertaken by the Secretariat using 2019 trade statistics, shows a huge export trade potential of US$ 101.1 billion.
"We need to promote sourcing of available products from within our region to promote regional trade and development," she said.
The meeting noted that obstacles currently being experienced could be overcome through enhancing the productive capacities, strengthening market information on availability of quality products within the region. Further, tailor-made production lines for products that are demanded by other COMESA Member States should be established.
The minister also approved the revival of the COMESA Trade Fairs, enhancing dissemination of market information and developing a trade information system/catalogue of products produced within the region among others.
At the meeting, the Council of Ministers approved the COMESA Medium-Term Strategy 2021 – 2025. The plan has been designed to map the way forward for the region's integration agenda taking into consideration key achievements, lessons learnt and challenges of the previous strategy.