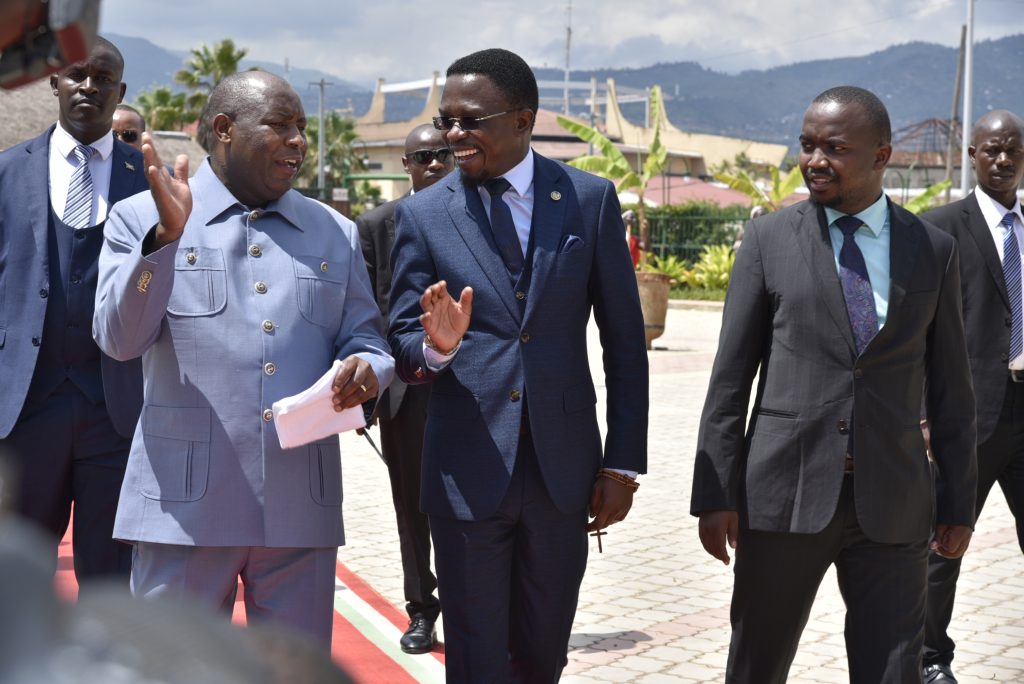 The President of Burundi H.E. Evariste Ndayimishiye, who is also African Union champion on Youth, Peace and Security has stated that more still needs to be done by national governments, continental and regional bodies to fully include young people in peacebuilding processes and conflict prevention in the east African region and beyond.
He pointed out that young people make the majority of Africa's population and hence leaving them out has continued to contribute to the unrests and civil strifes in some Member States.
The President has since called on fellow leaders to introduce deliberate efforts that will encourage the inclusion of young people in the governance process and let them be heard in decision making processes.
He was speaking in Bujumbura Burundi on Friday 12 May 2023 during the opening of the 3rd High-Level Interministerial Conference on the Role of Governments, Regional Economic Communities (RECs) and Regional Mechanisms in promoting the youth, peace and security agenda in East Africa.
The Head of State used the occasion to urge young people to change their mindset and initiate the change they want to see unlike always waiting for the governments to bring about change.
"It is unfortunate that in Africa, most of the young people have the mentality that government alone will bring about development and economic prosperity, you need to change your mindset, be innovative and take a lead in helping the countries develop,"
He cited the many natural resources that Africa is endowed with as something that young people could use to help bring development.
The young people attending the conference were called upon to work with governments to start building a better future today.  He condemned armed conflicts and wars that have besieged some parts of Africa citing his own experience in Burundi which had suffered unrest for many years.
Kenya's Cabinet Secretary for Youth Affairs, Sports and Arts Hon. Ababu Namwamba called for youths to unite with governments and fight injustice and unfairness which he described as ingredients for violence, civil strifes and wars. He urged the East African countries to ensure that they have a strong constitution and sound institutions that will support and protect democracy in the Member States. He cited the Kenyan experience were a Court nullified a Presidential election as a landmark case for the whole world.
Head of the Governance, Peace and Security Unit at COMESA Secretariat Ms Elizabeth Mutunga said it was evident that young people have continued to struggle to attain basic needs despite these social, economic and political needs being fundamental to improving their lives.
She pointed out the Continental Framework on Youth Peace and Security (YPS) as a viable document which COMESA will lead in its 10-year implementation plan.
"On our part, I wish to reassure you that COMESA will be at the forefront in the implementation of the priorities identified in the YPS Framework," she added "Based on our experiences, it has become very clear that young people in our region are very innovative with a lot of potential, skill and energy," Ms Mutunga was representing Secretary General Chileshe Kapwepwe.
Other Speakers included representatives from the Democratic Republic of Congo, Ethiopia, South Sudan, Tanzania.
The African Union Representative for the Great Lakes region H.E. Sghair M'bareck Said, Save the Children Programme Lead Mr Anthony Njoroge, COMYAP Representative Solomon Alazar also addressed the meeting.
The meeting held on 9 – 12 May was attended by about 120 delegates drawn from the East African region. It was jointly organized by the AUC, COMESA, Save the Children, Horn of Africa Youth Network, The African Center for Constructive Resolution of Disputes (ACCORD) and International IDEA .