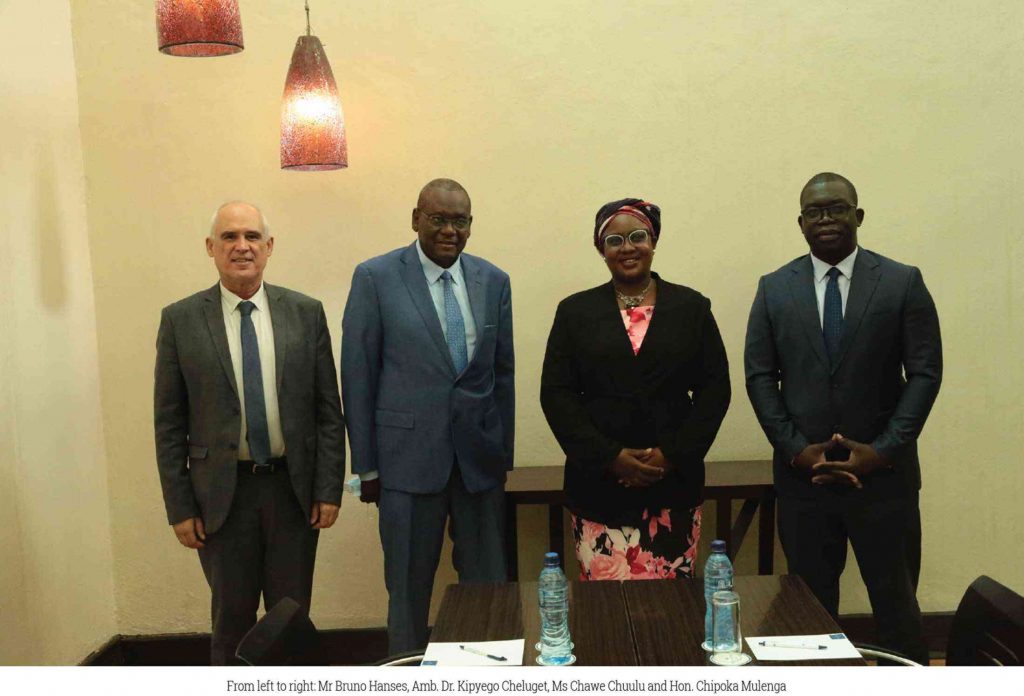 Friday, February 25, 2022: The Government of Zambia in partnership with the European Union (EU) and the Common Market for Eastern and Southern Africa (COMESA) have conducted the official launch of the 6.8 million Euros project to upgrade Zambian border posts.
The project, Zambia Border Posts Upgrade Project (ZBPUP), whose implementation has been underway since the signing of the financing agreement in November 2020, aims at improving intra-regional trade flows of goods, persons and services. It focuses on interventions identified as key to improving the trade and trade facilitation profile of Zambia.
So far, considerable progress has been made in capacity building and sensitization at the three border posts namely Mwami (Zambia/ Malawi), Chirundu (Zambia /Zimbabwe) and Nakonde (Zambia/Tanzania).
"This project will assist to improve, import and export procedures, transit requirements, customs and reduce time spent at the border," Zambia's Minister of Commerce, Trade and Industry Hon. Chipoka Mulenga said during the launch ceremony in Lusaka on Thursday 24 February 2022. "The removal of incentives that contribute to corrupt practices will contribute to enhanced revenue collection and improve business competitiveness in Zambia."
The upgrade the three One Stop Border Posts (OSBP) will reduce clearance times and costs for passengers and goods processed. It will also aid in improving efficiency of the services offered by border agencies thereby increasing satisfaction among users of border facilities and revenue collection.
Besides, the project will help impact skills and capacity among border agencies and the private sector through a series of capacity building and sensitization activities on core trade facilitation issues. In addition, the ZBPUP will aid in reducing the number of reported Non-Tariff Barriers (NTBs) at the targeted three border posts.
Minister Mulenga appreciated the continued support provided by the COMESA Secretariat and the EU to his Ministry in trade facilitation matters.
COMESA Secretary General Chileshe Mpundu Kapwepwe said strengthening of the physical and soft infrastructure in the region was key to fostering economic integration.
"Specifically, it raises competitiveness through lowering production and transaction costs as well as enhancing value addition and investments," Ms Kapwepwe said. She was represented by the Assistant Secretary General for Programmes Amb. Dr. Kipyego Cheluget.
The two called for a sustained visibility and communications programme so that people are constantly aware of the improvements being made at the three borders.
This support for the upgrade project was provided under the overall Euro 48 million agreement signed between COMESA Secretariat and the European Union aimed at increasing intra-regional trade flows of goods, persons and services.
The EU was represented at the launch by Mr Bruno Hanses who reiterated Europe's support to COMESA's regional integration agenda. He said the EU is ready to share its experience and lessons learnt from its own internal market with COMESA and its Member States.