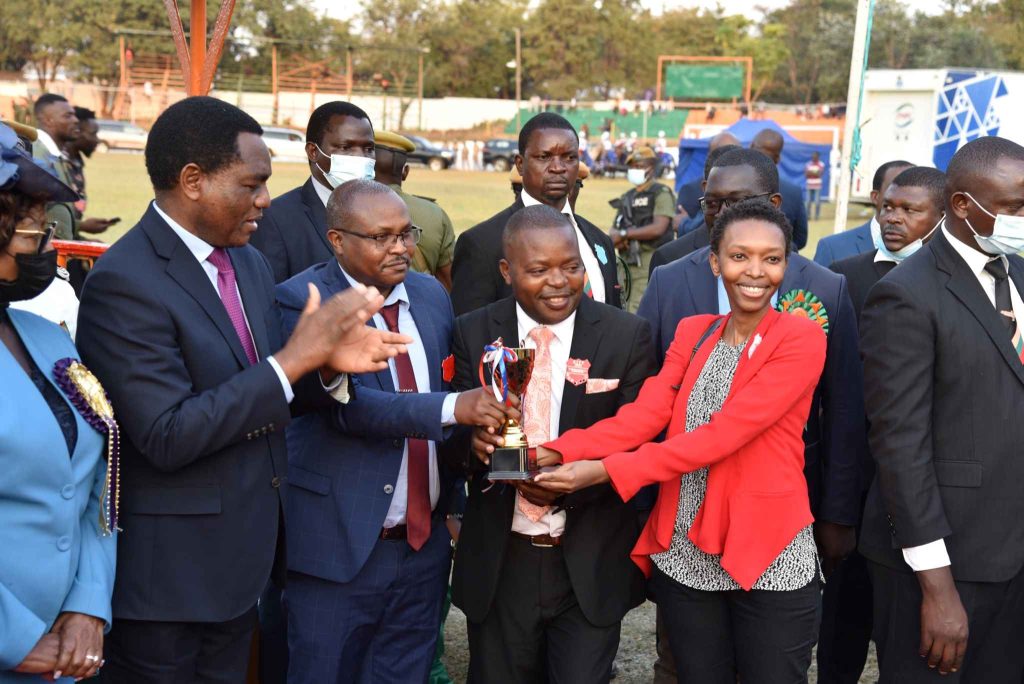 COMESA scooped the top award as the best international exhibitor at the just concluded international trade fair that took place in Ndola town in Zambia's Copperbelt Province 29 June – 5 July 2022.
Zambia's President H.E. Hakainde Hichilema presented the Best International Exhibitor trophy to the COMESA expo team after the official opening of the Trade Fair, Saturday, 3 July 2022.  COMESA countries participating at the Fair included Egypt, Kenya, Malawi, Congo DR and the host country, Zambia.
The expo was the 56th in the Zambia series and was anchored on the theme: "Promoting value addition for sustainable growth". This theme resonated well with the COMESA's strategy of economic development through the promotion of value addition to the region's raw materials thereby promoting job creation for women, men and youths.
COMESA's participation at regional expos is part of its outreach strategy to directly engage with stakeholders, raise public awareness on the opportunities and benefits that its integration programmes present to its members and citizens. The trade fair presented an opportunity to showcase COMESA as an organization, its programmes, its institutions, and to address any information gaps that might be existing.
At the Zambia expo, COMESA established an information resource desk where the staff team engaged with a wide cross section of stakeholders ranging from businesspeople, students, policy makers, small and medium entrepreneurs, among others.
In his keynote address, President Hichilema stressed the need for the countries in the COMESA region to partner with other COMESA member States involved in value addition by creating regional value chains to fast track economic recovery post COVID-19.
He cited the signing of Memorandum of Understanding between Zambia and the Democratic Republic of Congo for mineral beneficiation which will see the two countries add value to their mineral resources.
Majority of the visitors to the COMESA stand were keen on COMESA trade facilitation programmes, information on available markets in the region, financial support to women entrepreneurs, cross border motor vehicle insurance and general information on its programmes.