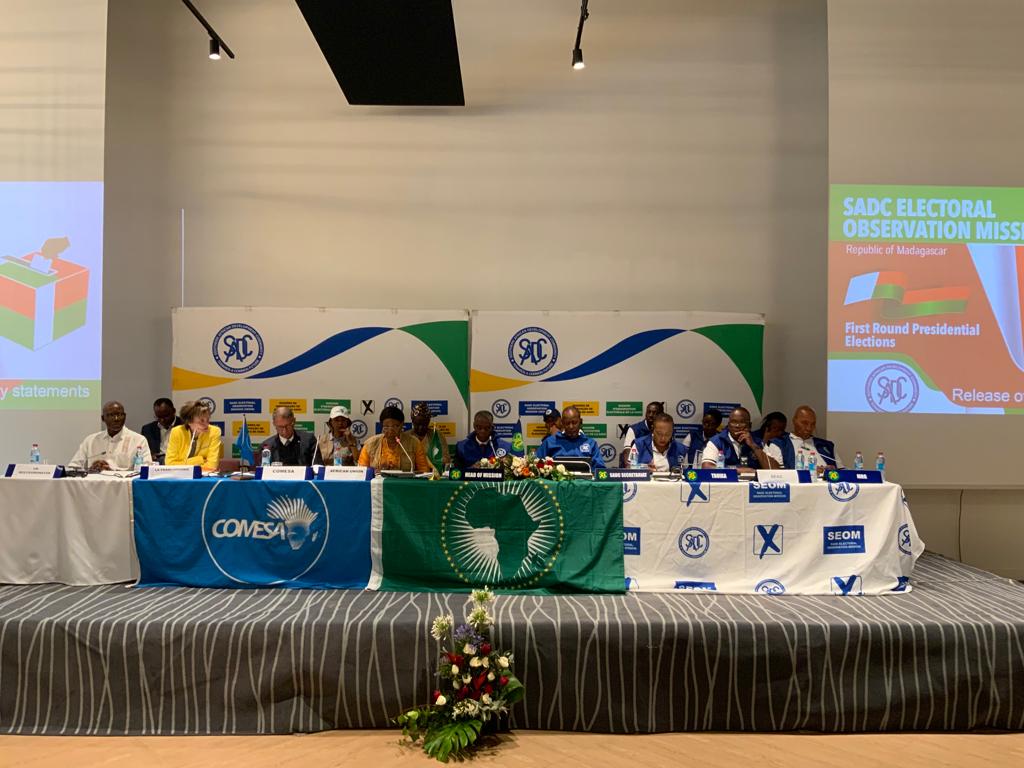 At the invitation of the Government of the Republic of Madagascar, the President of the African Union Commission (AUC), His Excellency Moussa Faki MAHAMAT deployed a Joint Short Term Mission of AU-COMESA Observers, to assess the presidential election of 16 November 2023. This deployment was done thanks to the excellent cooperation existing between the Continental Institution and the Regional Economic Communities (RECs). The Joint Mission shall stay in the country from 10 to 20 November 2023.
The Joint Mission was led by Her Excellency Catherine SAMBA-PANZA, former Transitional President of the Central African Republic in collaboration with Ambassador Patrice Eugene Cure, Member of the COMESA Committee of Elders from Mauritius. The Mission was reinforced by the effective presence of the His Excellency Bankole ADEOYE, Commissioner for Political Affairs, Peace and Security of the African Union.
The Joint Mission comprised of Seventy (70) Short Term Observers (STO) drawn from countries representing the geographical diversity of the continent and included notably: Eminent Diplomats of Member States accredited to the AU, Members of Pan African Parliament (PAP), Officials of Election Management Bodies (EMB), members of African Civil Society organisations (CSO), African election experts, Human Rights specialists, gender and media experts, and representatives of youth organisations. The observers come from the following Thirty-five (35) Member States: Algeria, Angola, Benin, Burkina Faso, Burundi, Cabo Verde, Cameroon, Chad, Central African Republic, Comoros, Congo, Democratic Republic of Congo, Equatorial Guinea, Egypt, Eswatini, Ethiopia, Gabon, Ghana, Ivory Coast, Kenya, Mauritania, Mauritius, Morocco, Niger, Nigeria, Rwanda, Sahrawi, Senegal, Seychelles, Sao Tome and Principe, South Africa, Tanzania, Tunisia, Uganda and Zimbabwe.
This deployment of the Joint Mission was done in conformity with relevant International, continental and regional legal instruments on election observation as well as the national legal framework. They include:
the Universal Declaration of Human Rights (UDHR);
the International Covenant on Civil and Political Rights (ICCPR);
the Declaration of Principles for International Election Observation;
the African Charter on Democracy, Elections and Governance (ACDEG);
the OUA/AU Declaration on the principles governing democratic elections in Africa;
the AU Directives for Election observation and monitoring Missions;
the Aspiration N° 3 of Agenda 2063;
the African Peer Review Mechanism (APRM);
the Principles for Election Management, Monitoring and Observation (PEMMO) and COMESA Elections Observation Guidelines; as well as the Constitution, laws and regulations of the Republic of Madagascar.
Download "AU-COMESA-Preliminary-Statement-Madagascar-2023-EOM.docx"

AU-COMESA-Preliminary-Statement-Madagascar-2023-EOM.docx – Downloaded 56 times – 570.45 KB
This post is also available in: Français (French)