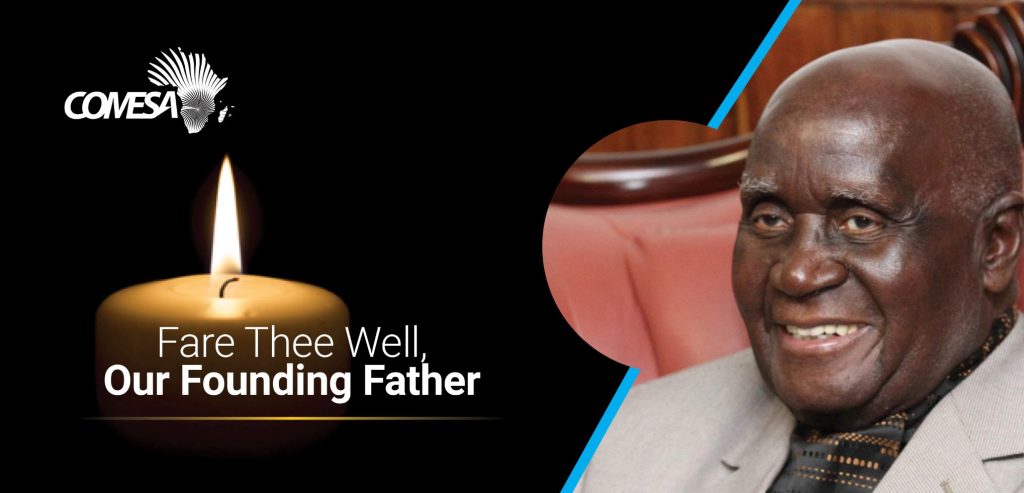 We have received the news of the demise of the founding father of Zambia, H.E. Dr Kenneth David Kaunda, with a deep sense of sadness and immense loss. Dr Kaunda was one of the great sons of the continent whose contribution to the liberation of Africa and enhancement of regional integration is immeasurable. He was not only a leading freedom fighter for the independence of African States, but he played a key role in the establishment of regional economic communities including COMESA.
A long-time champion of regional integration, Dr Kaunda remained a constant inspiration through the vision of our founding fathers which continues to shape and guide our actions.
Our region will forever remember Dr Kaunda for his visionary leadership that firmly believed that economic independence of African States can only be achieved and sustained through unity, peace and self-reliance. His vision is now our vision of a fully integrated economic community that is prosperous, internationally competitive, and ready to merge into the African Economic Community. We cannot honour this great Pan African more, than by remaining true to his vision.
His commitment to peace laid a solid foundation for Zambia that has over the years ensured the country remains a beacon of peace in the region. Amidst daunting challenges, he successfully steered his country Zambia to independence and beyond, while actively supporting other regional States to achieve their own self-rule.
During this period of national grief, COMESA stands in solidarity with the Kaunda family, the people and the Government of Zambia and we pray for God's comfort and strength at this difficult time.
We pray for his soul to rest in eternal peace.
Chileshe Mpundu Kapwepwe
Secretary General