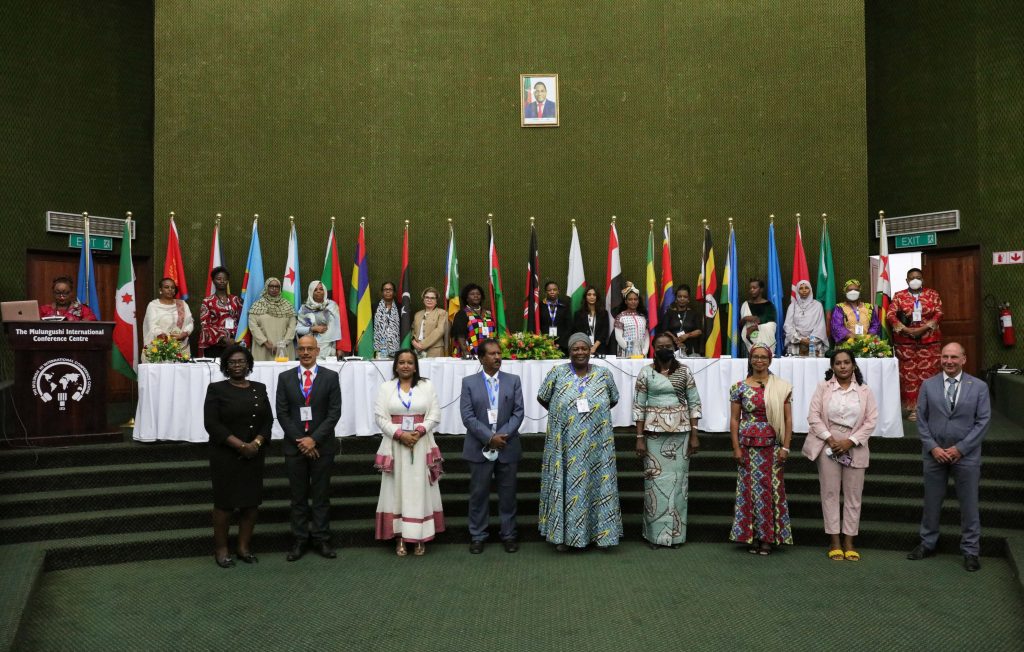 Over 200 local, regional and international businesswomen and investors participated in the 2nd COMESA Federation of Women in Business (COMFWB) annual regional trade fair that took place on 22 – 24 September 2021 in Lusaka, Zambia.
The forum provided a platform for businesses to showcase innovative products and services available and the existing potential in the region. It also enabled knowledge and experience-sharing especially for women in business to discuss the challenges and opportunities in regional trade particularly for micro small and medium entrepreneurs.
The expo was inspired by the need to address women's equal access to business leadership and entrepreneurship. According to COMESA statistics obtained under the Women in Cross-Border Trade programme, 70 % to 80 % of individual cross boarder traders in COMESA are women.  However, most of the border areas in the region lack basic infrastructure to cater for the needs of small-scale women traders.
Zambia's new Minister of Commerce, Trade and Industry Hon. Chipoka Mulenga opened the trade fair. He said trade expos provide valuable knowledge on the potential large markets available, outside current comfort zones, and urged women in business to take keen interest and actively participate.
"It is impossible to implement effective programmes of economic transformation without the involvement of women entrepreneurs," Minister Mulenga said.  "…we are delighted in gatherings such as this one because it provides a forum for exchange of ideas and experiences through which women development programmes can be implemented."
He said women entrepreneurs need to be encouraged and supported to participate in trade and become more competitive in a region that has embraced integration.
COMESA Secretary General (SG) Chileshe Kapwepwe underscored the importance of knowledge-sharing among women entrepreneurs as it enables enterprises to innovate, explore new markets, manage businesses effectively and in general serve as a springboard for such businesses into the future.
In her statement presented by Assistant Secretary General for Administration and Finance Dr Dev Haman, she outlined some of the initiatives that COMESA is implementing to enhance the participation of women entrepreneurs in regional and global markets. Among them, the promotion of e-commerce through better access to technology and online platforms such as the digital platform 'womenconnect' known as the 50 Million African Women Speak (50MAWSP) Project.
This project is designed to address the information needs of women in business in the region and is implemented jointly by COMESA, the East African Community (EAC) and the Economic Community of West African States (ECOWAS).  COMESA is also supporting competitiveness of the Private Sector through the European Union funded Regional Enterprise Competitiveness and Access to Markets Programme (RECAMP).
COMFWB has benefitted from this project through technical assistance and advisory services for SMEs in improving business management and coordination among them and other value chain players.
Other speakers included the COMFWB Chairperson Ms Maureen Sumbwe and COMFWB Chief Executive Officer Ms Ruth Negash.
COMFWB formerly FEMCOM was established by the COMESA Heads of State and Governments in 1993 in recognition of the role women play in the economic and social transformation efforts of the region.
Zambia Minister of Commerce, Trade and Industry Hon. Chipoka Mulenga (speaking), COMESA ASG Dr Dev Haman, COMFWB Chief Executive Officer Ms Ruth Negash and COMFWB Chairperson Ms Maureen Sumbwe.